Federal Reserve Exec To Head Business School
By David Bauman
A senior executive with the nation's Federal Reserve System of regional banks has been selected as the new dean of the business school.
William Curt Hunter, senior vice president and director of research of the Federal Reserve Bank of Chicago, was named dean June 12. He will assume the position in the fall.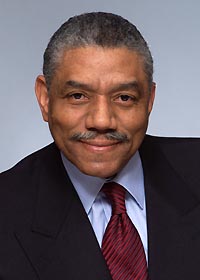 Photo Courtesy
Fed. Reserve Bank, Chicago
Hunter's expertise spans monetary policy, banking and financial markets, regional economics, strategic planning, and financial management. Prior to his appointment as chief economic advisor to the Chicago Reserve Bank, he was a vice president in charge of basic research at the Federal Reserve Bank of Atlanta, where he also managed the financial markets group. He has held faculty positions at Emory University, Atlanta University, the University of Georgia, Chicago State University, and Northwestern University.
"I am extremely pleased that we were able to attract someone of Curt Hunter's stature to lead our School of Business," said President Philip E. Austin. "He brings an extraordinary breadth of academic and public sector experience, and he has the vision needed to bring our business programs to a new level of excellence, both in terms of undergraduate and graduate education and service to our state."
Hunter said serving as dean of UConn's School of Business is "a wonderful opportunity" to help build one of the nation's top-ranked business schools.
The diversity of Connecticut's business community creates a constant demand for management talent and UConn's School of Business plays a key role in meeting that demand, he said: "I'm looking forward to meeting with business leaders in the state and for us to become more responsive to the needs of our primary stakeholders not only in Connecticut but in the northeast region."
Chancellor John D. Petersen said Hunter's appointment follows a year-long, nationwide search for a business school dean.
"Our goal was to find someone who could both strengthen our business programs and inspire people, from undergraduates to graduates, executives, and faculty," Petersen said. "With Curt, we exceeded our goal. He brings a remarkable combination of people skills and strategic vision to the School's vibrant educational environment."
The search was headed by Richard Schwab, dean of the Neag School of Education.
"The competition for top talent is very keen, as more than 60 business schools are looking for new deans," Schwab said. The committee screened more than 100 candidates and short-listed five, including Hunter.
"Curt Hunter is the ideal candidate for UConn's School of Business, "said Schwab. "He articulates an exciting vision for the school, and brings great academic ability and extensive experience in the business world. These are all qualities of an excellent dean."
John Kim, president of the CIGNA Retirement & Investment Services Corp. and a member of the search committee, describes Hunter as a superstar in his field and predicts that his arrival at UConn's School of Business will benefit more than just the University.
His involvement with the Fed's Open Market Committee, which sets interest-rate policy, "gives him instant credibility with Connecticut's corporate community," Kim said. "UConn's selection of an individual with such a powerful business and academic background will elevate the School of Business to a new level of national prominence."
Professor C.F. Sirmans, interim dean of the School, said the faculty is excited to bring Hunter on board: "This is a tremendous leap forward for the School, as we work to secure our place as one of the top public business schools in the country. Curt's expertise, knowledge base, skill set, and worldwide networks will serve our school well."
In addition to his strong business credentials, Hunter has a rich background as a researcher. He has published more than 70 articles in leading finance and economics journals, is the editor of six books, and is currently co-editor of Research in Banking and Finance. He also has been a consultant for many private corporations and government agencies, both in this country and overseas. Hunter was a U.S. Treasury advisor to the Bulgarian National Bank and its Bank Consolidation Company from 1992 to 1994.
Hunter holds a bachelor's degree from Hampton University in Virginia, and MBA and Ph.D. degrees from Northwestern University.
The UConn School of Business is ranked by Business Week as one of the best in the nation and is cited as the number one public business school in New England by U.S. News & World Report. The Wall Street Journal recently elevated UConn to its list of Top Business Schools for 2003.
---