GPS Helps Class Identify Locations
Of Hydrants, Phones, And More
By Richard Veilleux

s the snow continued to fall one day in mid-April, UConn firefighters continued to dig - and dig, and dig. A fire hydrant that was supposed to be in front of Ellsworth residence hall still did not appear, and the area they had cleared kept on growing.
The hydrant had actually been moved months earlier, when construction crews were installing new sprinkler systems in nearby buildings. But with more than 125 hydrants on campus, all buried in snow, firefighters couldn't keep up with the exact location of each one.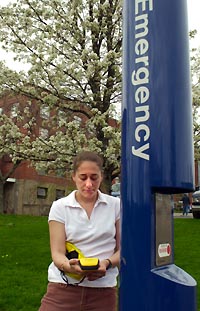 Photo by Dollie Harvey
By this time next year, thanks to students in a course on Geographic Information Science for Natural Resources Management, where they learn about and apply their lessons on Global Positioning Systems (GPS), firefighters will be able to locate every hydrant on campus instantly, no matter how deep the snow.
The hydrants are just the latest example of a partnership between Tom Meyer and George Kraus, director of design and construction management in Architectural and Engineering Services. The Department of Public Safety also has joined in, and will also benefit from the students' work.
Serendipity - and an old campus map - brought Meyer and Kraus together.
"I like my students to have real projects, and it matters to them, too. It's not just an exercise," says Meyer, an assistant professor of natural resources management and engineering and an expert in GPS and GIS (Geographic Information Systems). "They know they're doing something that will help the University, that they're not just playing with a toy."
Kraus hired some of Meyer's students for the summer, using GPS to map every tree on campus. When the project was completed, they entered the map into a computer, and overlaid it with a 1997 digital map of campus. Suddenly, a number of the trees were growing inside UConn's buildings.
Meyer alerted Kraus, who says the old map was never intended to be finely tuned. He was, however, in the process of working with the engineering firm of Fuss & O'Neill to create a new, digitized map of campus that will be accurate to within inches. But, says Kraus, the department would never have time to plot, yet alone catalogue and identify, all the other parts that make the campus a whole.
As a result of the work done by Meyer's students, UConn's new maps now can include all woody plants on campus.
Their work is complemented by the work of another group of students. Led by Kristin Schwab, an assistant professor of plant science, and Carol Auer, a woody plants expert an associate professor in the department, they catalogued all those trees and large shrubs using GIS, a computer system that assembles, stores, manipulates and displays data according to location. The information the students gathered allows anyone using the maps to click on a tree and discover almost everything about it, from genus to height, circumference, age, and whether it is a memorial tree.
Additionally, a geography student independently catalogued every rock outcropping on campus, collecting numerous pieces of information about each formation. Add the about 175 blue emergency phones on campus, and the fire hydrants and artistic structures on campus that Meyer's students will plot next semester, and the campus map will come alive.
GPS, the technology Meyer's students use, is a satellite navigation system that employs 24 or more satellites at any given moment, placed in six continual orbits, that can give a person carrying a GPS receiver on the ground his or her location to within a few meters. By walking to several locations, users can map - at the click of a button - virtually anything, from fire hydrants to the exact location of every building on an entire university campus.
The information gleaned can be loaded into a computer and stored, then used as an overlay on another map. Using GIS, all the stored information about a given object or site can be displayed.
Kraus says the students' work is invaluable: "It will allow us to add so many layers, so much depth to our maps, and will provide untold amounts of information we never could have obtained otherwise."
Between the Fuss & O'Neill surveys and maps, and the work done by Meyer's students, the new maps - created using a variety of technology, including GPS, GIS, stereoscopic photography, and AutoCAD (computer-assisted design) - will offer a stunning planning tool, Kraus says. By clicking on various points, architects can see what utilities run under a potential building site; telephone workers can select a blue phone and know its location, age, and use patterns; and planners will be able to plot the University's future development to a high degree of accuracy.
Kraus says UConn officials want to go still further, to the point where a single mouse click on any campus building on the digital map will provide the visitor with that site's floor plans, equipment layouts, and the status of work orders at the building.
"GIS becomes a window to the facility," Kraus says.
As funding becomes available and the police and fire departments begin incorporating GPS receivers into their cars and engines, the technology also will take public safety to the next level, says Fire Chief Williams and Major Ronald Blicher, from the UConn Police Department.
"When we can get the actual coordinates of the blue phones transmitted to the dispatchers," says Blicher, "it will give them greater ability to find the nearest patrol car for the call."
---