Under Kerr, College Embraces
Changing World Of Agriculture
By David Bauman

irklyn Kerr remembers giving a seminar to faculty when he visited UConn as a candidate for dean of the College of Agriculture and Natural Resources in 1992. At the end, he told them, "I've been told I have a southern accent, so if any of y'all think that's significant please tell me now."
"Somebody replied, 'Hell, you ought to hear the people from Maine,'" recalls Kerr, who was raised in West Virginia. "That broke the ice. I knew these people were all right. And coming here's the best move I ever made."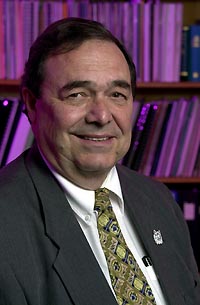 Photo by Peter Morenus
Kerr's academic career spans 35 years at some of the nation's largest land grant universities. The decade he has spent at UConn has seen the fulfillment of his vision of maintaining the land-grant functions of teaching, research, and outreach, while pushing the college into the high-tech frontiers of the ever-changing world of agriculture and natural resources.
As dean, Kerr is the academic leader and executive officer of a college that includes seven departments: plant science; pathobiology & veterinary science; nutritional sciences; natural resources management & engineering; animal science; agricultural and resource economics; and cooperative extension. He also serves as the director of the Connecticut Cooperative Extension System and the Storrs Agricultural Experiment Station.
Changing Scope
He has presided over the college during a period when booming fields such as cloning, molecular genetics, and now bioterrorism protection have a home in what some might consider an unlikely place - agriculture.
"The lines between agriculture, the environment, human health, and medicine have been greatly blurred," he says. "Agriculture is much more than beautiful cows grazing on picturesque hillsides."
The study of agriculture at UConn today includes topics such as human medical research, human nutrition, environmental sustainability, global food distribution, and protecting food and water supplies from terrorist attacks.
And UConn students are traveling to such places as Chile, China, South Africa, and Tunisia to study how to use science to increase food production; how to get food to starving people in the absence of transportation infrastructure; and how political policies affect international agricultural trade.
"What we're teaching is science," Kerr says, "without sacrificing our service to the state and outreach to Connecticut's agricultural and natural resources community."
During Kerr's 10-year tenure as dean, enrollment at the 122-year-old college - it dates back to 1881 when the University of Connecticut was the Storrs Agricultural School - has increased almost 30 percent to a total of 920 students (729 undergraduates and 191 graduates). Enrollment is expected to top 1,000 next fall, the highest number of students since 1982, when there were 1,016.
Economic Significance
"We're not the Midwest, but agriculture remains a significant part of Connecticut's economy," says Kerr. Statistics from the state Department of Agriculture show that 3,900 Connecticut farms grossed $900 million from traditional farm production in 2000.
Yet it is the rapid rise of "niche and specialty markets" served by greenhouse, aquaculture, pharmaceutical, and other high-tech industries that help account for growing student rosters, Kerr says. A new facility - the $24 million BioScience Complex - houses the Advanced Technology Laboratory, the Agricultural Biotechnology Laboratory, and the Connecticut Center for Regenerative Biology, bringing together many of the college's scientists with a common interest in applied aspects of biotechnology.
"The changing world of agriculture is outpacing the supply of workers," Kerr says. "The demand is definitely there for people to do original scientific research at the basic level. Things like, 'What enzymes can we use to make food better?' or 'What manipulations of basic food materials can we put together to make food healthier?' Right now, people here are trying to put vaccines in food, building bacteria to clean the environment, and using satellites to improve local zoning regulations. There's just so much going on, that's why students are coming to us."
Another reason that may be helping attract more students into agricultural and related disciplines is scholarships. Last year, the college provided $278,000 in academic scholarships to 170 students, all from private gifts, double the amount of five years ago.
National Reputation
Additionally, the academic reputation of the college has blossomed. Five faculty members - Derek Allinson, Richard Clark, Cameron Faustman, Karl Guillard, and John Riesen - have received the prestigious USDA National Distinguished Teaching Award; only one other college in the country has more, with six. Ann Ferris and Carol Lammi-Keefe, both professors of nutritional sciences, were among eight UConn faculty who brought in more than $1 million in grant funding during the past year. The total amount of grants to faculty of the College last year exceeded $14 million, the second highest among the University's schools and colleges.
Colleagues say Kerr has nurtured programs in animal and plant science, regenerative biology, land use planning, water quality education, and human nutrition education, areas of scholarship that will shape how agriculture is taught for years to come.
"He may seem laid back, but he's very focused on the things he wants to achieve," says Ian Hart, associate dean for research and advanced studies. "The college was an old-fashioned department in the early 1990s, emerging from a difficult financial period with no distinction and not scientifically well respected," he says. "Dean Kerr arrived with a vision to elevate our standards within the state and nationwide. Today we have faculty with national and international reputations."
Nancy Bull, associate dean for outreach and public service, praises Kerr for continuing to support his extension agents working in the fields with farmers and consumers, as well as youth programs like 4-H, despite the college's transition into new biotechnology research fields.
"The dean invests a lot of time going to meetings and retreats around the state, getting input," Bull says. "People around this state know him. That's important in a state with high public concern about how to balance competing urban and rural needs, the use of land, water quality, and quality of life issues."
Suman Singha, associate dean for academic affairs, credits Kerr with changing the culture in the college by recruiting good people and then empowering them to do their jobs. "His style is not top-down leadership," Singha says. "You would be hard pressed to find someone who doesn't feel a part of the team here.
"We've grown remarkably on the biotech side, without sacrificing service and outreach to the community," he adds. "That would not have happened without Dean Kerr's leadership."
Academic Roots
Kerr's academic roots are in animal science: He graduated from Ohio State University's Veterinary College and earned a master's in medical microbiology at the Medical Center at West Virginia University and a Ph.D. in veterinary pathology at Texas A&M. He spent 13 years teaching and conducting research in veterinary pathobiology at both Texas A&M and Ohio State.
In 1978, he was chosen to develop a research program at Louisiana State University's School of Veterinary Medicine, where he served nine years as associate dean of research and advanced studies. In 1987, he was invited back to Ohio State as research director for agricultural research, with a total annual budget of $48 million.
Kerr acknowledges that these were big schools with big programs. But he insists that UConn does the same things: "It's just a matter of scale. The quality of our program is as good or better," he says.
"Many students at those mid-west schools intend to go back home to the family farm," he adds. "Most of our graduates go to the corporate world or Wall Street or governmental agencies or agricultural business organizations."
Kerr says the college has come a long way: "When I came in 1993, we were referred to as a 'cow college'," he recalls. "Cows were and still are important to the supply of dairy foods but we weren't relevant. Well, we have evolved. I think this college now receives a lot of respect."
This article is part of a series about the University's academic administrators.
---