New Hires To Provide World-Class
Leadership For Fuel Cell Center
By Janice Palmer
Two prominent scientists have been hired as chaired professors by the School of Engineering, in its efforts to establish a world-class fuel cell research center.
Kenneth Reifsnider, a leader in composites science, has been named the Pratt & Whitney Chair of Design & Reliability. Nigel Sammes, a pioneer in solid oxide fuel cells, is the UTC Chair Professor of Fuel Cell Technology. Endowments of $1 million from each corporation made these chaired professorships possible.
"We are fortunate to have been able to hire two outstanding leaders in their fields," says Amir Faghri, dean of the School of Engineering. "We are bringing together researchers with diverse scientific expertise who will lead a large multidisciplinary team to advance cutting-edge research and development of fuel cells and all the associated technologies."
Fuel cells create electricity through a chemical reaction between hydrogen and oxygen and can be used to provide power to almost anything, from vehicles and buildings to laptop computers and hearing aids.
The Connecticut Global Fuel Cell Center, located in a new building on the Depot Campus, was created through a partnership between the engineering school, the state, federal entities, and Connecticut industry. The Center supports fuel cell research and design, commercial development, education, and technology transfer. Within the next few years, the dean hopes to establish a total of six endowed chairs at the Center.
Sammes, who is also serving as the Center's director of operations, has extensive experience in both industry and academia. After earning his Ph.D. from Imperial College in London, he went to work for a multinational company, Imperial Chemical Industries.
After several years, Sammes says, he got "itchy feet" - not unusual for the offspring of a British Army officer who had lived in several different countries during his childhood. He accepted an offer at the University of Waikato, New Zealand, where he was charged with setting up the materials and process engineering department.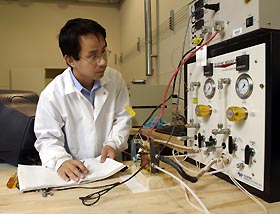 Photo By Peter Morenus
The nine years he spent there were productive and rewarding. At the age of just 34, he was promoted to a full professorship; he earned an executive M.B.A. with distinction; and was rewarded with an endowed chair - all while developing solid oxide fuel cell technology for which he now holds three U.S. patents.
Sammes's research group invented a process that enables the rapid heating and cooling of ceramic materials, used in solid oxide fuel cells, without inducing mechanical failure. Solid oxide fuel cells require high temperatures - 900 to 1000 degrees Celsius - to work.
This technology is very useful for portable and stationary fuel cells that require rapid heating and cooling, says Sammes. In the United States, for example, tractor trailer trucks idling at truck stops while drivers sleep waste an estimated $1.3 billion of fuel each year. Shutting off the engines and using a fuel cell as an auxiliary power unit would result in significant fuel savings, while reducing pollution and noise.
His success at the University of Waikato drew the attention of an American company: Acumentrics Corp. of Westwood, Mass., lured Sammes and eight members of his research team to the U.S., where they would commercialize their technology. He now has two more patents pending, and since arriving at UConn has two others undergoing application review.
The opportunity to help establish the Connecticut Global Fuel Cell Center was just one attractive aspect of the UConn offer.
"I was excited about the Center's concept and its mission to become a leader in making fuel cells a commercial reality," he says, "but just as important, I could not pass up the opportunity to teach in the School of Engineering. I love to teach and wanted to get back into a position where I could mentor students."
For Reifsnider, the enticement to join the fuel cell research team was the opportunity to extend his work in durability and reliability to fuel cell technology.
"Composites are very interesting material systems," he says. "I wanted to help make them an important part of our energy independence in this country."
Reifsnider previously held an endowed chair at the Virginia Polytechnic Institute for 12 years. During his tenure there, Reifsnider was director of the Virginia Institute of Material Systems, co-founder of the Center for Composite Materials & Structures, creator and primary investigator of the VPI Navy Integrated Information Technology Initiative, and deputy director of the National Science Foundation's Center for High Performance Polymeric Adhesives and Composites. For the last five years, he split his time between his research and his duties as an associate provost for interdisciplinary programs.
Reifsnider's penchant for solving engineering problems began more than 30 years ago at the Johns Hopkins University, where he played intramural lacrosse while earning a doctoral degree. At the time, lacrosse sticks seemed to fracture nearly as often as fouls were committed. He and some of his classmates worked with a retired professor and a manufacturer to come up with a stronger stick. It took a couple of years before the first composite lacrosse stick was created.
Reifsnider's research, which focuses on how composites act and react during practical use, took off after that - literally and figuratively. In his early years as a professor of engineering science and mechanics at Virginia Tech, he founded the Materials Response Group, which was called on by the U.S. Air Force to design the engine for the F-16 fighter jet.
"They wanted us to use composites in the F-16's components because they are lighter, but no tried-and-true method to predict the functional lives of composites in extreme conditions existed," Reifsnider explains.
He and his team created the MRLife code - a computer program that evaluates the strength and life of materials used in a product along with all the conditions under which that product is used. It is a versatile program used to design the F-16 engines and many other products, including hip replacement joints, golf clubs, and an array of vehicles.
At the Connecticut Global Fuel Cell Center, Reifsnider is expanding the work he began at Virginia Tech focusing on fatigue analysis and system reliability for both solid oxide and proton exchange membrane fuel cells.
Between the two of them, Reifsnider and Sammes have authored more than 300 journal publications.
Sammes is an editor for the Journal of the Australasian Ceramics Society, Solid State Ionics, International Journal of Hydrogen Energy, Virtual Fuel Cell Journal, and has been invited to join the board of the Journal of Power Sources.
Reifsnider is editor-in-chief of the International Journal of Fatigue, founding editor-in-chief of the Journal of Composites Technology and Research, and associate editor of the Journal of Applied Composites. He recently completed a book, Damage Tolerance and Durability of Composite Materials Systems, published by John Wiley & Sons.
---