Museum Outreach Brings Girl Scouts To Campus
By Carol Davidge
They blended water, cloth fibers, and paper to create colorful recycled paper, learning along the way about post-consumer products.
They took empty two-liter soda bottles, added soil, vegetation, water, and seeds, then covered them with plastic wrap to create mini-biospheres that make rain, much as happens in rainforests.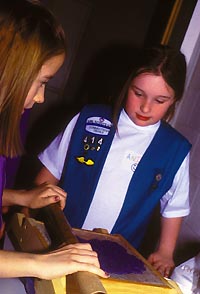 Photo by Carol Davidge
During an interactive tour of the Ecology and Evolutionary Biology greenhouses, the girls learned about ecosystems and plants that grow in tropical, desert, and alpine climates.
And through songs, books, and hands-on activities, they learned about the plant layers in the rainforest and the fascinating sloths, snakes, birds, monkeys, frogs, and ants that live there.
The activities were part of "Kids' Day for Earth Day" on April 19, a half-day event for 40 Girl Scouts from around Connecticut, who came to Storrs at the invitation of the Connecticut State Museum of Natural History and students from the Neag School of Education.
The girls from the Connecticut Trails Council earned their Eco-action badge with four hours of study and hands-on activities.
"I want my scouts to be more involved with the environment, to be more involved in their communities," said Carmen Strachan, a troop leader from Waterbury, adding that interacting with the UConn students had encouraged the scouts to think about going to college.
The day was part of a new emphasis at the Museum on on-campus programming, initiated by Leanne Kennedy Harty, interim director. Before coming to Connecticut, Harty managed outreach to more than 40,000 school children a year at the Carnegie Museum in Pittsburgh.
To implement the initiative, Harty called upon students from the Neag School of Education Student Association to help with experiments and activities, both in the Museum and elsewhere on campus. The students have been working with kids visiting the Museum to do experiments and activities since February.
"Going forward, we're looking to have more collaborations like this with UConn students," said Harty.
For the Earth Day collaboration, Harty worked with 10 student volunteers, under the leadership of Jasdeep Singh, Class of 2003, President of NSESA.
"As future teachers, we need to become members of our communities," said Singh. "I knew it was a success because the scouts were talking about all they had learned as they left."
---