Dean Davidson Reflects On Growth
Of Social Work Programs
By Sherry Fisher
Kay Davidson has just finished chatting with an alumnus, when the telephone rings. She answers it, thumbs through a stack of papers, scribbles a note on her calendar, and starts editing a statement.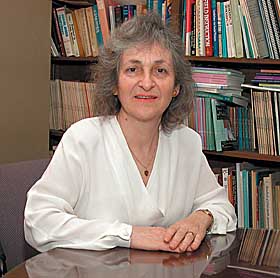 Photo by Peter Morenus
"Today has been a busy day," says Davidson, dean of the School of Social Work. But that's not unusual. Her calendar is always packed.
This week, in addition to meetings with faculty, students, and administrators, she attended a meeting in New York, spoke at an awards luncheon, hosted an international speaker, advised several MSW students, and participated in a statewide conference in Farmington. Another time, she may visit an out-of-state university as part of a reaccreditation team, meet with a prospective donor, or give a lecture at a local social service agency. "I wear many hats," she says.
Since she became dean in 1997, Davidson has overseen a growth in diversity among the student body and the faculty and in the curriculum; the start of a new doctoral program; and an increase in research funding.
The recent establishment of the doctoral program, with a gift from Judith Zachs '77 and her husband Henry, has been an important step in the development of the school, Davidson says. The program, which began last fall with six students, provides a rigorous curriculum designed to prepare social workers for careers as faculty in higher education and as researchers, evaluators, analysts, and high level administrators in public and private human service organizations.
The Ph.D. program, the only doctoral program in social work in Connecticut and the only one in a state university in New England attracts highly qualified professionals, and Davidson hopes the doctoral program will develop a national reputation.
She says she is proud of the diverse student body and faculty, as well as an expanded curriculum that teaches about diversity. "Electives on the Black Experience," "Puerto Rican and Latino Studies in Social Work," and "International Studies in Social Work" are some of the courses offered.
"They are examples in which the curriculum reflects the opportunities for students to learn about many different populations," she says. "Graduates will be well qualified to work with people from very different backgrounds and values."
During Davidson's tenure as dean, research funding has grown to more than $1 million, precipitating a need for more space on campus, because each research project has its own staff, she says.
Although Davidson, whose area of expertise is social work practice in health care, doesn't have much time to do her own research, she maintains strong ties to the field. "I'm asked to meet with social work departments in health care settings and make presentations," she says. "I feel I am making a contribution to the community."
Despite her busy schedule, Davidson does make time for something she loves: teaching. Every year she leads a seminar on teaching for practitioners who are new to instructing master's degree students in their internships. "It's fun," she says. "It's a very direct way of being in touch with the field. It's a unique opportunity to teach about teaching, which is something I enjoy."
It's not surprising that Davidson chose a career in social work.
"I was always concerned with social values and policies and interested in social change," says Davidson, who was born in England.
After graduating from the London School of Economics, she says, "I stumbled into a post-graduate diploma in medical social work and found I really loved it. I started learning about the social aspects of health care, and it became a passion in my life. Somewhere in the course of that, I realized how much I liked teaching others what I had learned, so I began to shift from doing the work of the profession to teaching."
It is a similar blend of social work practice experience and teaching expertise the Davidson looks for when hiring new faculty at the UConn School of Social Work. "We want to hire people who have experience in the areas they will teach to our students," she says. "We're looking for much more than a Ph.D."
Many of the School's students also have practical experience before they join the MSW program. "We're not just looking at people's GPA's," says Davidson. "We're looking for people with a commitment to social concerns."
One of her goals is to raise funds for endowments to help offer financial support to MSW students who need it. "Many work full time and have families to support," she says. "They're dedicated people."
She would also like to be able to provide an even stronger financial base for the Ph.D. program and support for its students.
Davidson is proud of the contributions that both alumni and students have made in Connecticut: "We provide a strong education in social work for people who want to pursue their careers; and our graduates Ð as well as students through their internships Ð provide a strong presence in programs across the state," she says.
Before coming to UConn, Davidson was on the faculty at Hunter College School of Social Work in New York City, where she was associate dean from 1991 to 1995. She was previously an assistant professor at the Columbia University School of Social Work.
She also has held a variety of positions in hospitals, both in Manchester, England, and in New York City.
This article is one in a series about the University's academic administrators.
---