Obstacles Still Abound For Battered Women,
Says Political Scientist
By Sherry Fisher

ictims of domestic violence have greater legal protection than 30 years ago, but the law can only go so far, according to Kristin A. Kelly in her new book Domestic Violence and the Politics of Privacy (Cornell University Press), released in January.
Although strides have been made in dealing with domestic violence, such as legal reforms and shelter provisions for battered women, there are still many challenges that need to be addressed, says Kelly, an assistant professor of political science.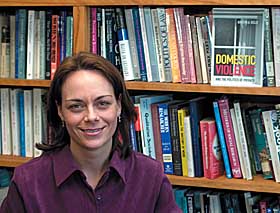 Photo by Melissa Arbo
According to Kelly, in the early years of the battered women's movement, the primary emphasis was on fighting for legal reforms designed to provide greater state protection for victims of domestic violence. "As a result of this legalistic emphasis, 'state protection' was largely confined to arresting batterers and/or issuing restraining orders against them," she says. The book addresses the limitations of that approach.
"While the legal reforms and the availability of the law as a resource for victims are positive steps, they're limited because of the incredible complexities associated with these situations," Kelly says. Some women don't want to turn to the state because there might be consequences, such as retaliation from their abuser, or they don't believe the police will intervene effectively.
Kelly points out that domestic violence has proved "extremely resistant to countermeasures. While domestic assault is illegal in every state, confusion about whether it is a private or public problem has not disappeared," she says.
"On the one hand, the criminalization of domestic violence transforms what authorities might have previously dismissed as a husband's prerogative into a problem warranting intervention and sanctions. On the other hand, very low reporting levels, police and judicial indifference, and a pattern of blaming the victim, all suggest that many people, including some victims, continue to see domestic violence as a private matter that should not be subject to public scrutiny or intervention," says Kelly.
One of the big dilemmas for those working in the field of domestic violence is balancing the victim's desire for privacy within the home with the need for outside intervention, she notes.
"If for example, law enforcement officers, judges, or victims perceive a particular solution as infringing on privacy to an unacceptable degree, the consequence is often poor enforcement, lenient sentences and low reporting rates," Kelly says. If, however, the principle of protecting a victim's privacy goes too far, the plight of a battered woman may not be addressed.
After conducting interviews with more than 40 individuals who work directly on the problem of domestic violence, including legal advocates for battered women, activists lobbying for changes in legislation, policymakers, lawyers, and police officers, Kelly constructs a model that replaces the traditional dichotomy of public/private with a triangle involving family, community, and state.
"As you look at the needs of victims, you realize they do need some sort of legal intervention in most cases," Kelly says. "But we need to move beyond legal protection to include greater involvement by the community in assisting those who are struggling to stop the cycle of violence. Victims need social services, a network of support, and they need to have the various state institutions that are assisting them connected to one another."
We need to reframe this as a problem not only for the victim and the batterer, but also for the community, Kelly says.
She argues that the family is set up in a way "that creates an inescapable tension between individual autonomy and merging with others. There is a double message - girls, give up your boundaries, care for your husband, put him and your children ahead of yourself. But if she is then battered, she is asked why she didn't leave or stick up for herself."
Kelly, who joined the UConn faculty in 1998, earned a bachelor's degree in political science and economics from the University of California-Davis. She received her master's degree and Ph.D. in political science from the University of Wisconsin-Madison.
In July 2001, she was the recipient of a Research Development Award from the National Institutes of Health to conduct a pilot study investigating the implementation of prenatal HIV screening in Connecticut. She is currently completing her second year as a Women's Health Scholar for the Center for Interdisciplinary Research on Women's Health at the UConn Health Center.
Since her arrival at UConn, Kelly has taught undergraduate courses in American politics, the politics of crime and justice, women and politics, and theories of punishment.
---