Word Is Out: Stamford's ESL Program
Big Hit With Students
By F.T. Larkin

ana Meoded had a tough assignment. She spent the morning trying to come up with the proper words to describe a picture to her classmate Fabiola Hernandez. She had to describe the details in the picture well enough that Hernandez could draw it without ever seeing it.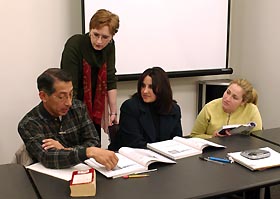 Photo by Peter Morenus
Meoded, 26, struggled for a bit, trying to explain to Hernandez that there was a man with a hat holding balloons and a little girl giving the man money. Meoded is from Israel. Hernandez is from Columbia. The two are taking a class in English as a Second Language at UConn's Stamford campus.
Meoded did well in her description, and Hernandez smiled when she realized she understood enough of her classmate's English to draw the picture exactly as it appeared on the paper.
Their teacher, Marcia Gethin-Jones, was pleased. Jones is the American language program manager for the UConn-Stamford ESL program, part of the American Language Program in the College of Continuing Studies.
Rapid Growth
During the four years since the program was established at the Stamford campus, Gethin-Jones, also an assistant professor-in-residence , has seen the program grow from four courses to a full roster of about 25 classes. It now has 16 instructors serving about 300 students a semester from more than 50 different countries.
The goal is to develop English proficiency for students' academic, professional, and social use. Students must have graduated high school and have basic proficiency in English to be eligible for the program.
Eight different levels of non-credit classes are offered, from beginning to advanced. The classes help students develop their listening, speaking, reading, and writing skills, as well as helping them prepare for the TOEFL examination, an English language proficiency test foreign students must take to gain acceptance to universities and college programs in the United States.
Classes range from beginning conversational English to advanced accent reduction. One class - vocabulary and culture - helps students understand American behavior. They learn about body language, watch American films, and find out about different attitudes and behavior among women and men in the United States.
As part of the program, students have the opportunity to take field trips to cultural and historical attractions, including the United Nations, the Museum of the American Indian, the South Street Seaport, and Central Park.
Students who complete advanced ESL courses can take a transition program, which includes a course on the American university experience, where they learn the lingo of college campuses; a course on academic strategies, such as how to take notes and how to handle stress; and two three-credit college courses.
The program draws students from Fairfield County, Conn., and also from cities in Westchester County, N.Y., such as White Plains and Port Chester. The majority of students are from Latin American countries and speak Spanish. Many also are from Eastern European nations.
Sophisticated Skills
Meoded, the student from Israel, came to America in October as an au pair for a New Canaan family. She had first visited the United States a few years before and liked the country. She learned a little bit of English in school in her hometown of Tel Aviv, but said this program is helping her develop much more sophisticated English language skills.
"We do learn English in Israel," she said, "but here it's different. They teach you what it is like to really talk English, to say the words correctly with just a little accent."
Meoded, who will return to Israel in a year and continue her studies to become a lawyer, said she also enjoyed the UConn-Stamford program because it draws students from many different countries.
"You make a lot of friends and you study all the time new cultures. That is a positive thing," she said.
Gethin-Jones, who previously headed the ESL program at New York University, said the classes are designed to help break down language barriers that might otherwise prevent students from succeeding in this country.
Many of the students, she said, are highly educated but their English language skills are so basic they have a tough time getting good jobs and end up in unskilled positions. She noted that in one of the classes she teaches, which has 11 students from nine different countries, one student is a gynecologist, another an economist, and two were studying to be attorneys in their native countries.
Ariel DiDodo is a student in Gethin-Jones' morning class. In his home country Argentina, he was studying to become an attorney. Now he is a bus boy in an Italian restaurant in Manhattan's Little Italy.
DiDodo, 24, said he left Argentina two years ago because the economy was so poor. He learned about UConn's ESL program through a friend.
DiDodo, who speaks Spanish and Italian, said sharpening his English skills will help him secure a better paying job in America.
"If you have good English, you make good money,'' he said.
This year, the American Language Program has started designing language classes for foreign employees at area businesses. Through its ESL for Specific Purposes program, instructors develop classes for workers in the medical, hotel, banking, and automobile industries. The program has hired a corporate relations specialist to work with businesses in the area to design the specialized classes, Gethin-Jones said.
Instructors will also design specialized classes for individuals based on a specific company's need, she added. Recently, the American Language Program designed an accent reduction class for a customer relations employee at a Ridgefield pharmaceutical company who was having trouble communicating with consumers who called the company with questions.
Gaining Confidence
Gethin-Jones, who struggled with language barriers when she lived in Asia for several years, said she enjoys helping students gain confidence in their English skills.
"I love to watch their progress,'' she said. "I enjoy seeing their sense of humor come out as their language develops. To see the excitement on their faces and satisfaction when they realize they can get an idea across is very gratifying."
Several of the participants have completed the program and gone on to register as full-time UConn students. Some have made the Dean's List. Others just take one or two courses for their own personal enrichment, she said.
The ESL program at UConn-Stamford is the largest such program offered by the University. Storrs also has an ESL program, mostly for its international student population, and the Greater Hartford campus offers an intensive executive English program and an evening program for professionals.
---