Digital Audio Reserves Offer Students
Anytime, Anyplace Access
By Suzanne Zack

earning the finales to the first and second acts of Mozart's opera Don Giovanni tested students in Professor Glenn Stanley's "Music History and Literature, 1700-1830" course in more than one way.
First, they had to find time in their demanding performance and class schedules to spend 40 minutes in the Music & Dramatic Arts Library listening to the music held on reserve. And then they had to spend more time in the Library familiarizing themselves with the musical nuances of the piece.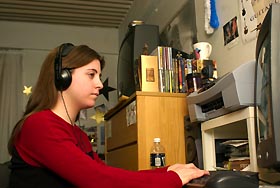 Photo by Melissa Arbo
Until this semester, that is - when Stanley's students were able go online whenever and wherever they chose, access the course in WebCT, and listen to the opera and dozens of other required pieces by Mozart and five other composers at their convenience.
"In this course, it's necessary to teach a lot of music not included in the recording anthology, which requires students to spend long hours in the library listening to numerous multi-movement pieces lasting as long as a half an hour to 40 minutes," Stanley says. "Our students have very, very long days because they are busy as singers and instrumentalists in large ensembles, in chamber music, and in opera productions. Having online access to the audio reserves 24/7 certainly helps make their preparation for tests more manageable."
This semester, Stanley's students and those in Robert Stephens' "Music in World Cultures" class and Philip Marcus's "Virology" class have been able to access digital audio files through a pilot project launched by the University Libraries, which is exploring the addition of audio material to Electronic Course Reserve services.
"Reserve services are integral to teaching and learning at the University. They often represent the most critical materials a student needs to access to successfully complete a course," says Brinley Franklin, director of University Libraries. "By integrating a digital audio component into our Electronic Course Reserve service, we enhance learning by providing simultaneous access anytime, anywhere to authorized users."
The new service eliminates waiting for materials, and the need to go to the library to listen to specific audio materials an instructor places on reserve.
In addition to addressing the issue of availability, which can arise when materials are rare or not available in multiple performances - especially at exam time, the pilot was designed to serve a specific user community. Commuters, daytime professionals, and musicians who spend long hours in rehearsal and performance all benefit especially from online access. In addition, the project potentially saves wear and tear on unique and original materials, offers new audio instructional tools to faculty members, fosters different learning styles, and facilitates distance education and regional campus audio reserves that have until now been impractical.
Stanley's course curriculum required the Music and Dramatic Arts Library staff to digitize 38 works, and process close to 200 individuals tracks or movements of music by Mozart, Bach, Beethoven, Handel, and Haydn.
For his course, Stephens placed on audio reserve music of South Africa and Zimbabwe, pieces with African-American musical roots, spirituals, religious street singers, and folk music of the south, including field hollers and work songs held in the Samuel and Ann Charters Archive at the Dodd Center. Among the more unusual audio files Stephens' students access online are field recordings of Alabama singer Horace Sprott by jazz scholar and author Frederic Ramsey Jr. that were published by Folkways Records in the early 1960s and are no longer commercially available.
Marcus says that because virology is a totally experimental science, ideally the class should have a laboratory. It does not, however, because it would be prohibitively expensive. As a consequence, he discusses experiments in class as if the class were actually doing them.
"I've been taping my lectures for 20 years," Marcus says. "Students always speak highly of them."
Students still find the online lectures a useful study tool, he says, only now they have access to them whenever it's convenient, including from their dorm rooms. Now that direct online access is available, he doesn't hear students complain that tapes are sometimes missing from the library.
Music students, too, are enthusiastic about the pilot, according to Stanley. "Students have made extensive use of the audio reserve. They enjoy it; they're comfortable with it. It's part of their lifestyle."
Daniel Shapiro, a fifth-semester music education major, says the new service accommodates his hectic schedule, allowing him to listen either early in the morning or late at night.
"I have a very busy schedule during the day and I am not always able to get to the library during their hours of operation. Sometimes I return home late. Having the digital audio reserves available at home has made it possible for me to listen to the recordings whenever I want."
A team of library staff is monitoring the use of the service by reviewing online feedback forms and responding to inquiries from users. At the end of the semester, the team will assess the quality of the digital audio reserve and the viability of a full-scale service, and will forward a report to the library administration.
---