University Scholar Fascinated
By Fool In Shakespeare's Plays
By Sherry Fisher
Niamh O'Leary wasn't always a Shakespeare buff. In fact, she hated his work.
"I couldn't stand it," says the senior from Granby, who is majoring in English. "The first Shakespeare I read was Romeo and Juliet, in my freshman year of high school. I found it ridiculous, absurd, and melodramatic."
O'Leary read Hamlet next. "I still didn't like it," she says.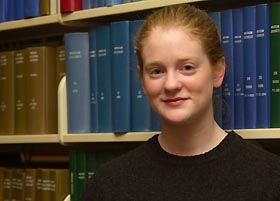 Photo by Melissa Arbo
But a gift she bought for her mother changed that. "I knew my mother liked the Royal Shakespeare Company, so for Mother's Day I bought the video Much Ado about Nothing, which was on super-sale," she says. "I became a Shakespeare fan.
"The play was so funny," says O'Leary. "It was exciting. It was energizing. I had to be on my feet to understand the humor, but I did. After that, I knew I had clearly been missing something."
O'Leary, who came to UConn as a Nutmeg Scholar and is a student in the Honors Program, started to read all the Shakespeare she could get her hands on. "I immediately loved all the comedies," she says, "particularly the character of the wise fool, present in many of Shakespeare's plays."
A course on Shakespeare, taught from a historical perspective, furthered O'Leary's excitement about his works.
"We read plays about kings who actually existed," she says. "I found it thrilling to see that everything was so based in time and how Shakespeare would change it to make the play more interesting or more controversial. It was fascinating how much more every line meant when I knew the history."
O'Leary took what she learned from there, and "put it back into the comedies."
Because of her deep interest in the character of the wise fool, in her junior year O'Leary decided to apply for the University Scholar program, where she could be involved in more intense research about the figure.
University Scholars are talented and highly motivated undergraduates selected by the University to pursue accelerated and nontraditional programs of study.
"In my thesis, I examine how the character of the wise fool is used as a vehicle for Shakespeare's manipulation of the comic genre," O'Leary says. She discusses the fool's social, dramatic, and historical origins and, using this background knowledge, studies his effect in the plays. "In some plays, the fool is just in one scene and hardly says anything, but sometimes he's a major player in the action," she says.
According to O'Leary, the fool helps bring the worlds of the upper classes and lower classes together on stage. "The main characters of the action are generally noble characters - lords and ladies who conceive themselves to be involved in some great tragedy, melodrama, or romance. The other world, going on at the same time, is the world of reality, often embodied by lower class servants or soldiers who are dealing with the nitty gritty, having a good time making fun of themselves and the lords and ladies," she says. "Through the fool, Shakespeare is able to introduce what might seem like alien elements into the plot."
Gregory Semenza, an assistant professor of English who is co-supervisor of O'Leary's thesis for the University Scholar program, says she is a "remarkably mature undergraduate." A paper she wrote in his graduate level seminar on Milton, in which Ph.D. and master's degree students were enrolled, was one of the best in the class, he says.
O'Leary, who has taken graduate level courses for the past three semesters, says she finds the courses stimulating. "I like the level of discussion," she says. "The pace is fast, but everyone is so passionate. It's awesome."
O'Leary plans to go to graduate school and teach at the college level. "I always knew I wanted to be an English professor, but I wasn't sure in what area," she says. "Now I know it's Renaissance literature."
---