Ferris Touches Community Through
Childhood Anemia Study
By Elizabeth Omara-Otunnu

atoya Walker is 27. She's a single parent - the mother of two kids ages 8 and 10, with another on the way. And she's constantly tired.
"I get up, pick out my kids' clothes, get them to school, and I'm tired after that," she says. "I run out of energy real fast, early in the day."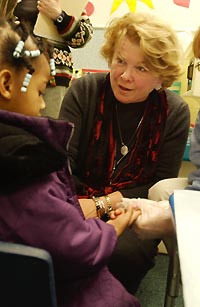 Photo by Peter Morenus
Walker is anemic.
She also is one of the inner-city moms Ann Ferris, a nutritional sciences professor, is trying to help, through a federally funded research project on the high incidence of childhood anemia in Hartford.
The study is one of a cluster of projects Ferris heads - known as the Family Nutrition Program - designed to solve nutrition problems through a combination of research and community education.
Among the many questions raised in the study, Ferris is exploring possible links between maternal anemia during pregnancy and infant mortality, low birth weight, and childhood anemia.
Walker's older child, born at 24 weeks, also has anemia and is part of the study. Walker is determined to carry her new baby to full term and is eager to learn more about how to stay healthy during pregnancy and prevent the health problems her 10 year-old has had.
One in Three
The childhood anemia project began as an offshoot of a nutritional survey of Latino children that showed an unexpectedly high frequency of low hemoglobin, the indicator for anemia.
In a follow-up randomized review of 300 medical charts at the three major primary care centers in Hartford, Ferris confirmed that as many as 33 percent of the kids in Hartford between the ages of 18 months and 3 years have hemoglobin levels below federal guidelines. The statistic, akin to rates in developing countries, contrasts with a figure of 7 percent nationwide in the United States.
She says the findings are a major cause for concern.
"Anemia has consequences for children," she says. "They're not just tired. The condition affects how well they can learn."
The study also revealed a high rate of anemia among mothers. "When we began the study," says Ferris, "we didn't think about a protocol for the moms. We had to develop one." The normal adult hemoglobin level for women is 12, yet many of the moms in the study had levels as low as 6 or 7.
"This has implications for parenting," she says. "If you don't have enough energy to pick up a coffee cup, how are you going to have the energy to run after your kids, discipline them, set limits - or have fun with them?"
Screening and Service
The 200 kids in the current study - 59 percent Latino and 23 percent African American, the others including bi-racial, Native American, Asian, and some kids from Central Europe - have their blood screened for both anemia and iron-deficiency at one of six Family Resource Centers or cooperating agencies in some of Hartford's poorest neighborhoods. The results are available right away and services, including consultation with a registered dietician, are offered on the spot.
The mothers at half the sites are also invited to join groups that meet for 12 weeks to discuss issues related to nutrition and health.
A recent group session focused on communication with health providers. Several women said they are reluctant to talk about being overweight. They were concerned that if they lose weight they will be assumed to be on drugs or have AIDS.
"If you want to talk about healthy eating, you have to do it in a way that's important to the community," says Ferris. "Anemia is important to the community. Through a discussion about anemia, we can suggest ways to increase diet quality and the density of iron, and reduce caloric intake."
The groups have been highly successful. "We originally thought it would be impossible to get people to join groups," says Ferris. Now, however, the problem is what to do when the 12 weeks are over and the groups are no longer eligible for grant funding.
Part of the recipe for the groups' success has been to employ workers from the community and to embed the groups in a network of community agencies to which participants with other problems can be referred.
Marcia Fider, a graduate assistant in nutritional sciences and one of the group facilitators, says the curriculum is a starting point for the women to discuss what's on their minds. "If someone was killed or overdosed the previous night, we encourage them to talk about it," she says. "Unless they do that, they won't be able to focus. But we always come back to issues of nutrition and health."
Adds Ferris: "Anemia is complicated with a lot of other things."
Shortage of Iron
Although anemia has a range of causes, Ferris has established that among Hartford toddlers it generally derives from iron deficiency. And, she says, shortage of iron may have an adverse effect on children long before it shows up as low hemoglobin.
Ferris has also documented a preliminary link between iron deficiency and infections among study participants.
"The primary food for bacteria is iron, and one of the body's first responses to infection is to aggregate iron," she says. "This makes the iron unavailable to become part of red blood cells."
Typically, a mom whose child is anemic is told to give the child more iron, yet Ferris found that the children's iron intake may be adequate or even too high. Almost all the iron is coming from cereals, however, and may not be readily absorbed.
One suggestion is to add a small amount of meat to their diet. Others include eating iron-fortified foods together with a citrus product to enhance iron absorption; using a cast iron frying pan; limiting dry cereal as a snack; and washing hands frequently to decrease the risk of infection.
Learning from the Community
Ferris says she's also learning from the families, who use a variety of traditional remedies, including herbs and certain food combinations, and from health care providers who find the current medical protocol ineffective.
"What started out as a lab-based model is not turning out that way," she says. "Instead of just doing analysis of blood work, we're trying to solve the problem together with the families, the health care community, and community support systems."
The approach can be challenging, however.
"It's very difficult," says Ferris, "to counsel people without telling them what to do; to bring them through the process so they can make their own decisions about what's appropriate for themselves and their children."
Because participants in the study are assured of confidentiality, the name of the mom in this article has been changed.
---