Make-Believe Patients Help
Med Students Hone Clinical Skills
By Kristina Goodnough
During the first week in April, Herbert Klei visited several different student doctors at the Health Center, each time complaining of shortness of breath. While the doctors were examining Klei, he was examining them.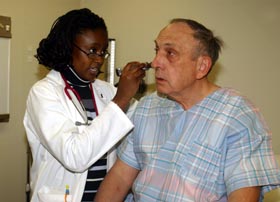 Photo by Janine Gelineau
Klei, an emeritus professor of chemical engineering, is one of about 50 volunteers - known as "patient instructors" - in the medical school's clinical skills assessment program. They are carefully trained to act out one or more of about 320 different medical conditions in a consistent manner and to evaluate the students' ability to interview, take medical histories, and conduct physical exams using instruments like stethoscopes, ophthalmoscopes, and even the little rubber hammers used for testing reflexes.
It is a program that has won praise nationally from the Association of American Medical Colleges, which is looking at it as a model for other medical schools, and locally from Yale School of Medicine, which sends its students to the Health Center for clinical skills training.
"The program gives students an opportunity to practice the clinical skills they are learning in school without involving real patients, who are apt to be uncomfortable or in pain," says Dr. Lynn Kosowicz medical director for the program. "Equally important, it gives us an accurate way to assess students' skills, because the patient investigators are trained in their portrayal and evaluation of the encounter. It is difficult to evaluate students' clinical skills if you compare encounters with different patients and varying ailments or conditions."
The students do about six sessions a year with the volunteers for the first three years. About two-thirds of the sessions are for teaching purposes and one-third are for evaluation, says Carol Pfeiffer, director of the program.
After each encounter, the patient instructor evaluates the content and process of the student's work and provides feedback. The sessions are videotaped so both the students and faculty can use the results of the assessment to evaluate performance and to plan the curriculum.
The instructors evaluate the students on items ranging from organization, timeline, pacing of interview, and documentation, to summarizing, lack of jargon, expectation and education, and encouragement of questions - all the ingredients of bedside manner.
"The students know the patient instructors are not real patients, so they have to suspend reality and act like they're in a true situation," says Kosowicz. "This is harder for some students than others. But if they can't examine a make-believe patient, I am less comfortable with their ability to examine a real one."
The cases or medical ailments are developed by Health Center faculty, based on their own interactions with real patients. "We have a case about pregnancy, about a living will, 10 different cases involving headaches, and a half-dozen related to chest pain and breathing difficulties," says Pfeiffer.
The cases are reviewed and subject to dress rehearsals with faculty and patient instructors before they are used with students. "We want to make sure the cases are realistic," says Kosowicz. The program is carefully integrated with the curriculum, she adds, so students are practicing the skills they are learning about in class.
Dr. Eugene C. Corbett Jr., who is on sabbatical from the Department of Medicine at the University of Virginia, is a scholar-in-residence with the Association of American Medical Colleges studying the clinical skills education of medical students.
"This is the area of contemporary medical education that needs the most improvement," he says.
Corbett has surveyed 60 medical schools. UConn was one of about 10 that appeared to have a more explicit and comprehensive clinical skills plan for the students, he says, and one of about 30 that has a clinical skills center.
Corbett says the self-monitoring is a very impressive part of the program. "To be sure that all students in a school are coming through with optimum learning outcomes is one thing. To become aware of this because of careful study of your curricular process is another," he says. "I think it is a testament to the quality of the program that Yale University looks to UConn for assistance in assessing student skill performance."
---