Huskies Capture Second Straight NCAA Championship
By Richard Veilleux
When the women's basketball team put the finishing touches on their fourth national championship Tuesday night, it marked a great night for UConn athletics. And if past victories are any indication, the win should prove to be a boon in the coming months for the rest of the University, too.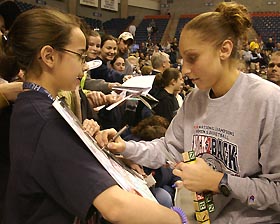 Photo by Peter Morenus
"There is a good bounce effect," says Paul Pendergast, senior associate athletic director for development, skipping past his unintentional pun. "When you win a national championship, people want to be a part of it."
Indeed. Before the men's basketball team won the NCAA basketball championship in 1999, contributions to the Division of Athletics totaled less than $5 million, Pendergast says. Four basketball championships later - the women also won in 2000 and 2002 - the total has topped $11 million annually.
The ripple effect goes beyond athletics. Fund raising for academic programs also benefits, says Maribeth Amyot, senior vice president of the UConn Foundation. UConn alumni feel proud of their alma mater. Applications for admission increase. People across campus engage each other in discussion of the finer points of the championship game. People from across the state - more than 3,000 of them - turn out for a pep rally in the Harry A. Gampel Pavilion and, while here, see for themselves the physical transformation of the campus.
"Championships create a great buzz, not just across Connecticut but across the country," says James Morales, director of admissions. "Do applications to the University increase following championships? Certainly. People who see the games become more interested in UConn. They dig a little deeper when they visit the web site and see things about UConn they might not have noticed had they not been drawn to the site by the games."
Alumni, too, are drawn back to their alma mater, says Alumni Director John Feudo, who joined many alumni at three events the University hosted in Atlanta during the few days that comprised the Final Four.
"We have alumni who are rabid basketball fans, alumni who are casual fans, and alumni who don't follow basketball at all. But regardless of which category they fit in, all our alumni recognize that the teams' successes have brought international visibility to UConn," says Feudo. "That in turn lets us showcase our academic success, our faculty and researchers.
"It creates great enthusiasm," he adds. "During the games, UConn alumni are getting together everywhere, and they're talking about UConn, their professors, new buildings, old friends. Nothing but good can come out of that kind of interaction."
Adds Amyot: "Everyone at the institution benefits. The championship makes people proud to be affiliated with UConn, and creates a better environment for development officers. It's uplifting, and everyone wants to talk about UConn."
Or sing.
Josh Frumer and Melissa Gernat were taking a break Thursday, waiting for the lunch crowd to arrive at Papa Gino's in the Student Union, where the two work.
Suddenly, they sprang into song - the Husky Fight Song.
"It's great for school spirit," says Gernat, a senior from Shelton. "I think it'll bring more kids to school here."
---