Urban Studies Intern Chooses Career In Social Work
By Sherry Fisher
Tania Nieves Rivera, a petite 13-year-old with a curly ponytail, saunters into the after-school program holding a large sheet of construction paper.
"I have the picture I drew for your room," says the perky eighth-grader . "I'm going to finish it today."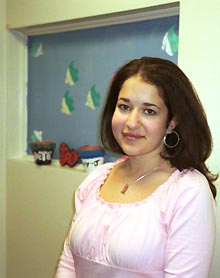 Photo by Sherry Fisher
Delmaliz Medina smiles as Rivera proudly unrolls the construction paper and carefully lays it on a snack table. On the top, the word 'Delmaliz' stands out in intricate lettering. Peppered in pinks and purples, the picture's centerpiece is a heart drawn in delicate detail.
"I really like it," Medina says. "It will look great in my room."
It's 2:30 p.m. on a Friday afternoon at the Youthnet after-school program in downtown Waterbury, where Medina, a junior majoring in urban studies at the Waterbury campus, is an intern.
Medina has gotten close to Rivera, one of 14 inner city middle-schooler s in the Youthnet program where she has worked two afternoons a week since October. "She has really touched my heart," Medina says.
Youthnet, sponsored by the United Way and the Waterbury Foundation, is part of Connecticut Junior Republic (CJR), a private, nonprofit center for adolescents. The internship, which fulfills a requirement for the urban studies degree at UConn, will continue until June.
"What did you do to your hair?" asks Rivera, shifting her eyes from the drawing to Medina. While a conversation ensues about hairstyles, the youngster carefully adds a touch of green to a leaf. She examines her work, and decides the leaf needs more shading. She rubs the drawing with her fingers to create the desired effect.
Urban studies is the first four-year degree program in place for the tri-campus system. It includes sites in West Hartford, Waterbury, and Torrington. The program is also offered in Storrs.
The urban studies program prepares students to be city planners, town government officials, economic development leaders, or other service providers in the public or private sectors.
Students must take 24 hours of major requirements, including courses in history, political science, sociology, economics, and geography, and 12 hours of related courses. Students are also required to do an internship or a senior thesis.
What attracted Medina to the urban studies program was that she could earn the degree in Waterbury, where she lives. "It would be hard to do everything I do and take classes someplace else," she says.
When Medina, who is a full-time student, is not at her internship, she works with youngsters at Waterbury Youth Services, and is a tutor at the Connecticut Reads Program at a local elementary school.
"I also like the interdisciplinary aspects of the program," she says. "At first I didn't know if I wanted to go into psychology, sociology, or social work, but the courses and internship have cemented my decision to go into social work."
Medina, who will graduate in 2004, plans to earn a master's degree in social work at UConn.
Medina works with the children in life-skills areas such as anger management, self-awareness, assertiveness, and teen pregnancy. She also tutors math and reading, assists in recreational activities, makes school visits to talk with teachers, and meets with parents.
"Why do you like to draw?" Medina asks Rivera, who is busy adding flowers to her picture.
"When I can't express myself, I express it in drawing," Rivera responds. "Also, sometimes it calms me down."
Rivera says she'd rather come to the after-school program than stay home. "I like coming here," she says. "They teach me stuff about life."
Daniel Rezende, CJR's program supervisor and a graduate of UConn's School of Social Work, says Medina has been an asset to the program. "I told her she'd wear a lot of hats," he says. "She's been able to do it and do it well. Not everyone can do it."
Medina says what she learns at Youthnet, she can't get in the classroom. "You can't learn this from a book," she says. "Every child is different."
Rivera and Medina have established a close connection. "She's not like other people who just look at you," Rivera says. "She gets you right away. We can talk about problems."
Medina says the internship has been an "awesome experience. I've learned how one person can have an effect on a child. I've learned so much about kids. There is a strong need for social workers, particularly minority social workers, and I want to make a difference." Medina's supervisor, Katie Kologe, says the fact that Medina speaks Spanish has been an asset to the program, particularly when speaking to parents.
The urban studies program has given her direction, Medina says. "It may sound like a clichŽ, but I was born and raised in Waterbury. I'd love to continue to give to the community."
"Do you want anything else on here?" asks Rivera, turning her drawing toward Medina. "No, I can't think of anything to add," Medina says. "I think it's perfect."
---