Teamwork Pays Off In War And Peace,
Says Management Professor
By Richard Veilleux
John Mathieu doesn't dance. He's more of a choreographer. Just like any good team leader.
"You can have the best singers in the world, but if they're not working together, it's just noise," says Mathieu, a professor of management in the School of Business and the Northeast Utilities Scholar.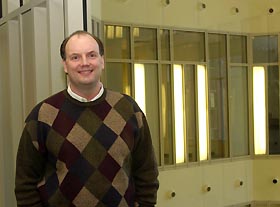 Photo by Dollie Harvey
In business settings, teamwork can make the difference between profits and losses. On the battlefield, it is far more complex and dangerous, and the consequences are literally life or death.
"Teamwork, especially in crisis situations, is vital," Mathieu says. It's about coordination and communication, about knowing what the other members of your team - or other teams - are doing in certain situations, so everybody stays on the same page when things get hectic. You have to keep the pieces together and still reach your goal," he says.
A lack of coordination among teams is what leads to friendly fire disasters. Things don't work the way they should, he says.
"People can be doing a great job, be highly motivated, and there can still be problems when they don't share priorities and a common vision of what they're trying to accomplish," he says. "People get parochial. They try to protect their own turf. They get entrenched. It can happen between people or teams. It's not because they're bad people, or that they're lazy."
When coordination between teams works, he adds, they can make beautiful music together.
"The key for modern day managers is not to micromanage team efforts or linkages. The idea is to sculpt a shared vision of what they are trying to accomplish, what the various roles of members and teams are, and then to cut them loose to do what they do best," he says. "The challenge, however, is to have mechanisms in place to keep the teams synced with one another - and technology can often be the solution."
Mathieu says managers must make the charge clear, provide resources, and then hold the members - or the teams - responsible for achieving their goals, aligning the reward system to help the process work.
"It's really that simple," he says, "but organizations are often afraid to let go of the reins."
Mathieu has been researching how to optimize teams for more than a decade. A UConn alumnus (Class of 1980), he earned his doctorate in industrial and organizational psychology from Old Dominion University and was a psychology professor at Pennsylvania State University before coming to UConn in 1999. He became interested in the topic while working with Steven Zaccarro, a UConn alumnus who now teaches at George Mason University.
By then, American automobile manufacturers "were getting their socks knocked off" by the Japanese, and studies determined that working in teams, a concept American companies had largely abandoned in the late 1950s, played a role in that success.
Several years later, some high-profile incidents, including a crisis at a nuclear power plant and the attack on an Iranian jetliner by the U.S.S. Vincennes, which killed 270 people, were blamed in part on a lack of coordination among command and control teams and breakdowns across teams.
That was when America rediscovered the value of teamwork. Today, as technology enables everything to move more rapidly, teamwork is more important than ever, says Mathieu.
"About 80 percent of people working in a business environment today are either fully or partly involved with a team," he notes. "Businesses are more fluid, global. Building teams allows companies to align their talent, to leverage workers' skills."
Mathieu's current research involves studying how to improve interaction between teams. He has been at the forefront of the field, serving as the principal investigator or co-investigator on projects that have brought in more than $3 million in grants, primarily from the United States Air Force's Office of Sponsored Research. He has studied multi-team decision-making in air traffic control for Navy and civilian flight control operators, and in power plants. He also has studied and won grants to work with a variety of businesses and public safety departments on effective selection and hiring processes, looking for attributes that make good team members.
Last June, Mathieu and William Breetz, a professor at the School of Law, won a $1.5 million grant from the Air Force to help develop the Connecticut Center for Advanced Technology (CCAT), a partnership between the state and federal governments, regional academic institutions including UConn, Yale, Rensselaer Polytechnic Institute, and private industry.
The combined effort will focus on development of the next generation of technological systems for both military and civilian applications as well as helping other organizations develop technological advances.
Once the technologies that CCAT will focus on have been selected, Mathieu will work with the other institutions to develop and execute their shared vision.
"The nature of work has changed," Mathieu says. "Before, a person's job description was 85 percent of what they did. Now, it's maybe 40 percent. The other 60 percent is on an as-needed basis. You might be working with three other teams simultaneously. You have specific yet different roles you have to play."
That's true, he says, whether the job is in a corporation, a fire department, a power plant, or the Air Force.
In a war setting, teamwork is indispensable. "War moves a lot faster today, and it's a lot more lethal, so your teams have to coordinate their moves much more carefully," Mathieu says. "When troops made an error during World War II, the consequences were not necessarily so deadly."
But Mathieu believes American forces are doing an excellent job of coordination during the current war with Iraq, based on his observations of the small number of friendly fire incidents.
"If their teams don't know where the other teams are, it's a recipe for friendly fire tragedies," he says. "If they coordinate well - and all indications are that this is happening - then they're leveraging their talent well."
In a business, the losses that can accrue from poor coordination among teams are not as tragic, but they can be disastrous.
"Poor coordination leads to redundancies and unsatisfied customers," Mathieu says. "Good businesses work with the customer, they don't kick him around among departments. The workers are cross-trained, or they set up conference calls. They use the skills available."
---