Mean Streets Author Launches Latino Month
By Sherry Fisher
One day Piri Thomas put a big notebook on the table in his prison cell and said to the book, "I want to tell you a story." He began writing.
Thomas forgot that he had failed English in school. By his own admission he "didn't know an adjective from a pronoun from a hole in the ground," he told some 200 people gathered April 1 in the Rome Ballroom.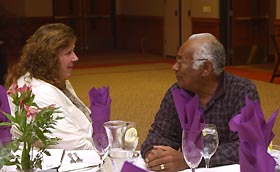 Photo by Dollie Harvey
Thomas, author of the autobiographical classic Down These Mean Streets, was the keynote speaker at the opening ceremony of Latino Awareness Month. The event launched a month of activities focusing on Latinos and literature.
"I went to a style that is called phonetics and began to write my book phonetically until I went to high school in prison and got my diploma," Thomas said. He served seven years of a 15-year sentence for armed robbery.
"I believe that every child is born a poet, and every poet is a child," he said. "Poetry to me was always a very sacred form of expression."
Born in New York City's Spanish Harlem in 1928, the son of a Puerto Rican mother and a Cuban father, Thomas struggled for his survival, identity, and recognition at an early age. He lived among poverty, racism, and street crime. His autobiography Down These Mean Streets, published in 1967, made "el barrio" (the neighborhood) a household word to non-Spanish speaking readers.
In the 1930s when he was growing up, "they didn't know whether to call me nigger or spic," Thomas said. So they called him both. "I'm not a nigger and I'm not a spic," he would reply, "I'm a human being."
His words reflect his mother's wisdom.
When his mother, Dolores Monta–ez Tomas, witnessed her child's anger, she'd say, "No color was born to be superior and no color born to be inferior. All color is born to be beautiful decoration, like the flower gardens of the earth. Nobody's better than you, son. É We are not minorities. We are all majorities of one, similar to each other, but like fingerprints, not quite the same."
From his poem Born Again at Each A.M. he read:
The street's got kicks like a bargain shelf,
In fact, cool-breeze, it's got love like anyplace else.
It's got high-powered salesmen who push mucho junk,
Hustlers who can swallow you up in a chunk.
Thomas's Stories from El Barrio and Seven Long Times have received critical acclaim. He travels the world reading his works and has been the subject of two documentaries.
---