Former Academic Vice President Ken Wilson Dies
Kenneth G. Wilson, a widely quoted expert on the English language and a longtime faculty member and administrator at UConn, died March 11 at his home in Mansfield. He was 79.
Wilson came to UConn in 1951 as an English instructor. He was named head of the English department in 1965, dean of the College of Liberal Arts and Sciences in 1966, and vice president for academic programs in 1970. Many of his contemporaries credit Wilson with starting the process of making UConn a nationally respected university. He returned to teaching in 1981, and retired in 1989.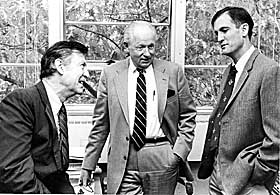 Photo by Dean Batchelder
Wilson received acclaim with the 1987 publication of his book Van Winkle's Return: Change in American English, 1966-1986, which was conceived when Wilson returned to the classroom and was shocked by the language, often crude or vulgar, that students of the 1980s used casually. In 1993, he published the widely respected Columbia Guide to Standard American English. Both were written in Wilson's singular, direct style, laced with humor. Wilson also authored dozens of other books and articles.
"Ken had a wonderfully direct manner, and a very salty, wonderful kind of humor," says John J. Gatta Jr., a colleague of Wilson's and currently interim head of the English department. "The Guide reflected his temperament, directness, and humor, but also conveyed his flexibility. He didn't believe in the Holy Rules of English."
Milton Stern, an English department colleague and friend of Wilson's, says "Ken was one of the most valuable people the University has ever had. His intellectual nimbleness made him prime material for really serious administration. He was not a numbers guy, but was interested in university building - not bricks and mortar, but building the University from the inside out."
Stern says Wilson and President Homer Babbidge built "an enviable and increasingly recognizable life sciences group. They really put UConn's life sciences on the map.
"Ken gave the loyalties of his life to the University," adds Stern. "He was a superb teacher, a superb scholar, and a superb administrator."
Harry Hartley, UConn president from 1990-96, who was hired by Wilson as dean of the School of Education in 1972, echoes Stern's assessment: "Ken Wilson was one of the best academic administrators ever in higher education," he says. "His instincts were almost always correct, and he always put the institution first."
Wilson was a member of dozens of organizations, including the Modern Language Association, the Medieval Academy of America, the National Council of English Teachers, Phi Beta Kappa, and Phi Kappa Phi. He consulted for the National Endowment for the Humanities, and served two terms on the New England Association of Schools and Colleges' Commission on Institutions of Higher Education, the region's primary accrediting board.
A native of Akron, Ohio, Wilson earned his bachelor's degree from Albion College in Albion, Mich., in 1943; and both his master's degree (1948) and doctoral degree (1951) from the University of Michigan.
Wilson leaves his wife of 56 years, Marilyn Clarke Wilson of Mansfield; a son, a daughter, and a brother and their families.
A memorial service will be held March 29 at 1 p.m. at Zenny's Restaurant in Mansfield. In lieu of flowers, memorial contributions may be made to The Kenneth Wilson Book Foundation, c/o the Homer Babbidge Library, Attn. Linda Perrone, UConn Libraries, Storrs, CT 06269-1205; or to Hospice of Eastern Connecticut, 34 Ledgebrook Drive, P.O. Box 716, Mansfield, CT 06250-0716.
---