Student Shapes Up, Ships Out,
And Sails In The America's Cup
By Richard Veilleux
Brian Sharp's flight connections were horrid. It took him 37 hours to get from the warmth of summer in New Zealand to the chill of winter in New England. And that left him precious little time - about one day - to register for classes, rent an apartment, find some furniture, and square away his financial aid. And get a little sleep.
But Sharp wasn't complaining. In fact, he says his whirlwind return to college life was a good thing, because it kept his mind off what he had just left.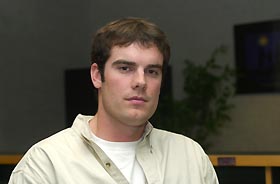 Photo by Melissa Arbo
Sharp, a mechanical engineering major from Norwalk, had just returned from "the best job I can imagine," crewing for Oracle BMW Racing in the America's Cup, the world's premier - and oldest - sailboat race.
Despite the disappointment of losing, Sharp says, the hardest thing was leaving behind his friends: "We lived together, worked together, had fun together for 15 months. We built some really strong bonds."
They also did some fine sailing, winning eight sets of trials before falling to the Swiss boat, Alinghi. The Swiss went on to win the Cup, beating the defending champions from New Zealand 5-0, in a match that ended March 2.
Sharp, at 6'5" and about 220 pounds, presents an imposing figure, as befits his job as a "grinder" on Oracle BMW's crew. The grinder, a position named after the old coffee grinders, is responsible for pulling the boat's huge sails in or up to catch the wind. It's a demanding job. To prepare for the task, Sharp spent seven months training in California, trimming 40 pounds in the process.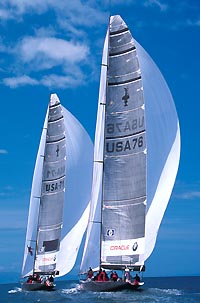 Photo by Sally Samins, Courtesy of Oracle BMW
The grinders, for those who watched any of the races on television, are the four people who may be standing still, then suddenly burst into action, cranking their wheel like madmen.
"It can be crazy," Sharp says. "There are four of us, and our pedestals [the wheels they must crank to adjust the sails] are connected in different combinations, to different winches, and they work with each other. If the trimmers need power at one point, you use one combination, and so on," he says. There are multiple combinations.
Sharp began sailing with his father and grandfather when he was about six years old, but joining an America's Cup crew wasn't something he dreamed of then. In fact, he says, although he enjoyed sailing, it wasn't something he did day-in, day-out, or even with great regularity.
But in the summer of 2000, he joined some friends in Miami and began crewing on a Star Class boat racing in the Baccardi Cup, a competitive series but without the fervor - or boat size - of the America's Cup.
It was a good place to make contacts, and when he discovered you could make a living on America's Cup boats, and friends of his father suggested he was big and strong enough to join a crew, Sharp sent out a few inquiries. His efforts were rewarded, and he was asked to come to California for training and, if there was an opening, possibly a contract.
"They started in April, early May. I finished classes on a Thursday, bought my plane ticket on Friday, and I was on a plane to California on Monday," he says. By Tuesday, he had begun the grueling training, which, among other things, involved running miles in sand dunes, occasionally while carrying 100-pound bags.
When training ended, he returned to Connecticut, only to be offered a contract to join Oracle BMW Racing.
"It was just luck that I walked in at all," he says.
For now, Sharp is getting back on course with his studies. He expects to graduate in December 2003. After that, he says, he isn't sure what he'll do.
"I might go back to do some sailing in Miami or San Francisco, maybe just for fun. Maybe go to work," he says. "I thank my lucky stars I had this chance, even if I don't get back" to the next America's Cup, tentatively scheduled for 2007.
He says the crew worked a lot of hours during the past couple of years - 22 months with little time off. "But how many people do you talk to about working that can say 'I really like this job'?"
Perhaps not many. But Brian Sharp numbers himself among them.
---