Middle School Students Learn
International Diplomacy Skills
By David Bauman

nternational diplomacy may not be functioning too well at the moment with an impending war on the horizon, but scores of middle-school students showed there was hope for the future at the International Negotiation Forum hosted by UConn's GlobalEd Project last week.
The GlobalEd Project is an experimental study of gender-based differences in group decision-making and negotiation skills. The research - being conducted under the auspices of the political science and educational psychology departments - is in the second year of a three-year investigation using computer-assisted foreign policy simulation that links about 900 middle and high school students each year over the Internet.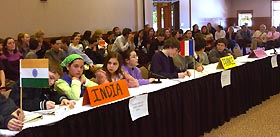 Photo by Dollie Harvey
Last week's Face-2-Face Negotiation Forum was the capstone event for the Winter 2003 GlobalEd Middle School simulations. More than 300 students from 10 middle schools in Connecticut, Massachusetts, New Hampshire, and Pennsylvania participated in the day-long conference to engage in some face-to-face diplomacy, debate the same kinds of global issues the real United Nations faces, and learn the pros and cons of different styles of negotiation.
Divided into teams representing nine countries, the students had spent several months researching the politics and culture of their appointed country in order to argue that country's point of view on a variety of international issues. Additionally, these classroom country-teams spent five weeks linked with each other over the Internet "playing" foreign-policy simulations selected by the GlobalEd Project staff. The simulations involved e-mail negotiations about issues ranging from drug trafficking to global warming.
The weeks of research and simulation are necessary in order to be fully prepared to debate at the level required for the face-to-face negotiation forum, said Kevin Tomasure, a seventh grader from E.T. Richardson Middle School in Springfield, Pa. The forum has all the aspects of a real United Nations gathering, following diplomatic protocol that includes speaking only through the chair, he noted.
"You really have to know what your country's position is when speaking through the chair," Tomasure said. "You want to argue back and forth, but you're limited to how often you get to speak."
Another student, Sandra Marin, an eighth grader at East Hartford Middle School whose team was representing Mexico, delivered her delegation's opening statement in Spanish. "We decided that reading our opening statement in their language would help us represent Mexico better," explained the 14-year-old, whose mother is Peruvian and father is Colombian.
Gary Herman, the social studies teacher who accompanied Marin and her classmates, marveled at the number of different countries' views at the Negotiation Forum. "This makes the kids negotiate and compromise," he said. "That's a skill that will not only help them understand their world a little better but help them get along with people on a daily basis."
Richard Schwab, dean of the Neag School of Education, noted the serious demeanor of the student teams.
"They are really into this," he said. "This is the stage in life when these kids are growing from children into adults. They've been placed into a situation that forces them to take a different point of view. That challenge helps them think better and develop their academic and personal skills.
"Bringing the outside world directly into the classrooms of middle school students is a shining example of using technology as a meaningful educational tool," he added.
The conference was co-sponsored by the Neag School of Education and the Dean's Office of the College of Liberal Arts and Sciences.
This year more than 30 schools in six states have participated in the project. In addition to the middle school simulations, the project has included two high school international studies simulations this fall. Project staff members also have visited schools in states from New Hampshire to Maryland, discussing with faculty and students the growing need for international studies education in light of increasing globalization.
The project includes an inquiry into possible gender differences in the manner that decisions are made and negotiations are conducted.
"We expect to find that girls approach international relations more cooperatively than boys, regardless of the issue. We also expect that girls will develop as leaders more quickly in all-girl groups than in mixed-gender groups," said Mark Boyer, a professor of political science and co-director of the GlobalED Project with Scott W. Brown, a professor of educational psychology.
One of the project's goals is to understand how to better design strategies that allow more open consideration of collaborative approaches to world affairs within foreign policy establishments, Boyer said.
"At some point in the future, then, we might see more gender-neutral or even 'female' approaches to conflict resolution," he said. "Given that coercion and resort to arms play such a large role in contemporary world affairs, it is most important that our educational systems more directly introduce students to diverse and collaborative approaches to conflict resolution. Someday, then, alternatives to the use of the force may be on the menu of choice for world leaders."
---