Speaker: Conflict Threatens Cultural
Heritage Of Middle East
By Sherry Fisher
Bloodshed in the Middle East doesn't destroy only human life, says a scholar of the archaeology and theology of that region. It also destroys antiquities and the history they represent.
"Antiquities enshrine the collective memory of humankind as much as they preserve the cornerstones of the cultural identities of the peoples to whose history they bear witness, and whose property they must remain," according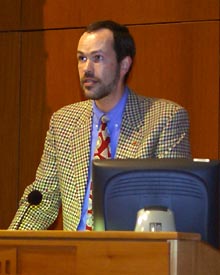 Photo by Dollie Harvey
to Michael Weigl, an associate professor at the University of Vienna, Austria.
Weigl spoke March 3 in the Konover Auditorium of the Thomas J. Dodd Research Center. The event was part of the Beverly and Raymond Sackler Art and Archaeology Lecture Series.
Prolonged conflicts have taken their toll on the archaeological and cultural heritage of Israel/Palestine and Iraq, Weigl said.
Although Israel can rely on its "excellent infrastructure of museums and archaeological institutions, the Palestinian territories are devoid of any such facilities," said Weigl. "There is no authority that will take care of the antiquities, although such a party exists on paper, and there is not a single museum where the finds of ongoing archaeological projects could be stored safely."
Both Western scholars and scholars from Iraq agree that the two Gulf wars in the 1980s and 1990s had a severe impact on the archaeological and cultural heritage of ancient Mesopotamia, he said.
According to Weigl, there has been deliberate destruction of archaeological sites - so-called collateral damage caused by the actions of war. "In some cases it was caused by foreign soldiers, but most frequently by the desire of the international antiques market," he said. Looting, embargoes, lack of financial resources, lack of modern methods and materials for preserving objects, and inadequate means to protect excavated sites have already resulted in a "most depressing status quo."
"Does it really matter if some some ancient archaeological sites are being turned upside down once more?" he asked. Given the human tragedy caused by war that we face constantly, is it of any relevance at all that a few already broken sculptures will not survive? Considering the threats of biological warfare, does the destruction of ancient economic records have any meaning at all? Why should we bother to preserve the memory of these distant cultures, or why should we care not to destroy them if much larger and seemingly more important issues concern us? Although I do not agree with the underlying assumptions of these and similar questions, I think they make an important point, and therefore have to be taken seriously."
The cultural heritage of a people, a nation, means a lot more than just an assemblage of ancient structures, Weigl said. "The quest for the conservation and interpretation of ancient architecture and written records means more than just a romantic idealization of the past.
It means upholding an awareness of the respective peoples and thereby of our own cultural identity."
During armed conflicts, warring parties would repeatedly and purposely target the cultural sites of their adversaries, Weigl said.
In ancient Assyria, they went far beyond the actual battle aimed at utterly destroying the economic resources, but also sought to eradicate the nation's cultural identity by eliminating everything that symbolized its sovereignty and pride, he said.
"It is well known the Nazi regime tried to inflict as much damage as possible to the cultural property of the countries they occupied," Weigl said. "A few days before the Russian army reached Vienna, the Nazis had explosives attached to the medieval cathedral of Vienna and tried to blast it away before they had to retreat. The same tactics of 'burnt earth' were designed for Paris, in particular for the Eiffel Tower and Notre Dame Cathedral."
Weigl said the events of September 11 might be seen as an "assault whose intentions went far beyond the actual destruction. The purpose was obviously not so much to cause military defeat, but to target symbols of American identity."
---