Health Center Researcher Works
To Stem HIV, STD's In India
By Kristina Goodnough

n India, as in the rest of the world, men are less likely than women to seek health care. Yet male reluctance to seek care has broad ramifications for both genders in the age of HIV and other sexually transmitted diseases.
Stephen L. Schensul, a professor of community medicine and director of the Center for International Community Health Studies at the Health Center, has received a five-year, $2 million grant from the National Institutes of Mental Health to try to address this issue in India, which currently has more than four million people with HIV and is second only to South Africa in the number of infected people.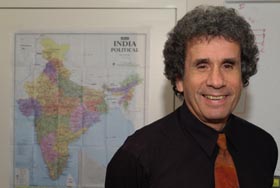 Stephen Schensul, a professor of community medicine, has won a $2 million grant from the National Institutes of Mental Health to support his work on HIV and other sexually transmitted diseases in India.

Photo by Peter Morenus
"The standard public health approach is not working," says Schensul. "This project aims to develop a new culturally based approach to the prevention of HIV and other sexually transmitted diseases that is centered on male sexual concerns about masculinity and reproductive health."
The project will take place in three large urban slum communities in the northeastern part of Mumbai (Bombay), and will be conducted in collaboration with researchers from the International Institute for Population Sciences there and Hartford's Institute for Community Research.
"A number of studies have indicated that Indian men are more concerned about sexual performance issues than they are about sexually transmitted infections," says Schensul, who has been studying issues of reproductive health in India and South Asia for more than 10 years.
"When men in India finally do seek health care, it is generally for conditions related to sexual dysfunction," he says. "These problems, termed gupt rog ("secret illnesses" in Hindi) are outside the tradition of Western or allopathic medicine, so they're often demeaned or ignored by biomedical health service providers."
The result, says Schensul, is that Indian men often turn to non-allopathic practitioners, who rely on systems of health that include ayurveda, unnani, and homeopathy. "These providers are more understanding of the sexual problems, more available in the community, and less costly. But they often have limited understanding of proper treatment for infection control and they fail to provide information on preventing the transmission of HIV and other STD's," he says.
"Our goal is to look at men's cultural concerns about sexual dysfunction as an opportunity to get them involved in health services that can help them with prevention and early treatment of STD's and HIV," Schensul explains.
The project focuses on two experimental interventions, each with a different group of service providers. In one of the test communities, biomedical or allopathic health service providers will be trained to establish a male health clinic attentive to male concerns about gupt rog, while providing education and treatment for sexually transmitted diseases.
In the second community, the non-allopathic providers will be trained to link their understanding of gupt rog with approaches to recognition of STD's and education of patients on sexual risk reduction.
A third community will be a control, with intervention limited to community education.
"Our preliminary work has shown that men who have these sexual concerns are associated with much riskier lifestyles - involvement with commercial sex workers, sex with multiple partners - that put them at greater risk for developing HIV and STD's. We are trying to find a new and culturally appropriate way to connect with these men," says Schensul.
The interventions will be evaluated at three levels: a pre- and post-project survey of the intervention communities to assess change across the life
of the project; documentation of the integrity and acceptability of services at the health care provider level; and a pre-treatment and six-month follow-up of patients, to determine whether there was reduction in the rate of sexually transmitted diseases and risky behaviors, and which group of providers - allopathic or non-allopathic - was more effective in generating positive patient outcomes.
A second, smaller study will focus on wives of men participating in the first study. "For most women in the general population in India, the greatest risk factor for HIV/STD's is being married," says Schensul. "We hope to look at the spouses of these men, at issues related to marital and extramarital sex, and at ways to reduce risks for women."
---