Athletics Programs Strong And Growing
By Karen A. Grava
The UConn community clearly takes exercise seriously.
Participation in both intramural sports and recreation has increased steadily over the last few years, Lew Perkins, director of athletics, told the Board of Trustees recently.
The intramural program last year had 4,019 people participating on nearly 35,800 occasions, up three percent from 2000, and resulting in 3,371 games or matches.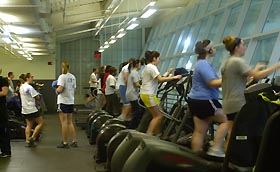 Students work out on the exercise machines at the Field House. The rate of participation in the athletic division's recreational programs last year was almost double the rate in 1997.

Photo by Melissa Arbo
In addition, people participated in the informal recreation program on 471,796 occasions, up 9 percent from 2000, and approaching double the participation rate in 1997.
The University's facilities were used more than 5,000 hours a year, with facilities used late into the evening hours and early in the morning. "It's clear that we have a highly successful program and that we need more space," Perkins said.
He noted that the 21st Century UConn program, a $1.3 billion program that begins in 2004, includes $31 million for a multi-purpose building.
Perkins said the University has 24 varsity sports, including 11 men's teams and 13 women's, and more than 600 student athletes. The intercollegiate program is ranked by U.S. News and World Report among the top 20 in the country, based on academics, athletics, and compliance with the National Collegiate Athletic Association. It is also ranked 31st in the country for academic and athletic achievements by Sports Illustrated.
But Perkins noted that the division is most proud of the students' academic achievements: more than 40 percent of the student athletes earned a 3.0 or better grade point average last year, with 12 earning a perfect 4.0. "We emphasize to our athletes that they are students first," Perkins said, adding that since 1990, 798 UConn student athletes have been selected to Big East Academic All-Star teams.
The students are successful not only in the classroom, however. Perkins reported that since 1990, UConn has won 35 Big East regular season championships, 33 tournament championships, and five national championships, including three in women's basketball, one in men's basketball, and one in men's soccer; and 133 student athletes have been named All-Americans.
The University, which has been recognized nationally for its compliance with Title IX, a federal program to ensure gender equity in athletics, had 52 percent participation by women and 48 percent by men in 2001, compared with 38 percent by women and 62 percent by men in 1990.
But while participation has been increasing, the proportion of the athletics program funded by the University has been shrinking - from 59 percent in 1989 to 22 percent in 2002. The division's budget has grown from $8.3 million to $38.2 million over that period, with the additional money coming from revenue generated by athletics and from private gifts.
Goals for the division for the future include building the Division I-A football program, which will begin play in the new stadium in East Hartford this fall; and completing the Burton Family Football Complex, an $11 million, privately funded project to accommodate football staff and team practice on the Storrs campus.
---