American Drama Specialist
Welcomes Repeat Performances
By Sherry Fisher
Imagine seeing the play Death of a Salesman 20 times. Brenda Murphy has, but she's not complaining.
In fact, she welcomed the opportunity.
Murphy, a professor of English and expert on American theater, often can be found in a tiny video-screening room in a Manhattan warehouse, "taking furious notes" while watching the tape of a Broadway show. In this case, the work was for her book Miller: Death of a Salesman (Cambridge University Press, 1995).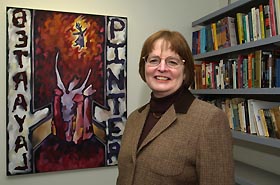 Brenda Murphy, professor of English, uses archival material to analyze the development of plays.

Photo by Peter Morenus
At other times in other places, she has seen many different versions of the Miller play.
Murphy says the New York Public Library has a wonderful collection of videotapes of Broadway shows that the public can view under strict supervision. "You take notes like crazy," Murphy says, "because you're only allowed to see a video of a particular show one time. It's part of the agreement the library has with the producers."
The author of nine books on American drama and many articles and essays on the subject, Murphy says her books involve extensive archival work.
It isn't unusual to find her sifting through stacks of manuscripts in a library or museum, examining original stage managers' scripts, decoding a director's scribbles on a scrap of paper, or interpreting loose pages of text with a playwright's revisions.
By the time she sees the video of a production, Murphy has learned - through her archival work - the director's, designer's, and actors' approaches to the play.
"I get as much as I can before I see the video," she says. "You can get a description of the stage and setting, but there's no substitute for seeing the actors moving in the space."
Murphy says she became "hooked" on American theater as a Ph.D. student at Brown University, when she was asked to teach an introductory drama class.
"It was thought that American drama began with Eugene O'Neill in 1920," she says, "but I knew that the major American literary realists of the 19th century I had studied - like William Dean Howells, Henry James, and Mark Twain - had all written for the theater. I wondered what the connection was between these great writers and the drama that everyone dismissed as not being literature."
That became the subject of her first book, American Realism and American Drama, 1880-1940, published in 1987 as part of Cambridge University Press's series on American literature and culture.
Murphy, who has been at UConn since 1989, was recently awarded a prestigious research fellowship from the National Endowment for the Humanities. The NEH fellowship will support the work on her 10th book, The Provincetown Movement and American Modernism.
According to Murphy, the Provincetown Players were the most significant and influential American theater group of the 20th century. She will study the role they played in the invention and development of American Modernism, and their impact on 20th-century culture.
Since coming to UConn, Murphy has written seven books, including five published by Cambridge University Press.
One of her special interests is the artistic collaborations among playwrights, directors, and designers. "Playwrights, especially in the 20th century, didn't sit alone in their studies, writing scripts," she says.
In Tennessee Williams and Elia Kazan: A Collaboration in the Theatre (Cambridge, 1992), Murphy examines one of these creative partnerships. "I was examining the process of creation that took place as these artists came together," she says. "What I discovered was that Kazan had a large role in shaping Williams' scripts. It wasn't a matter of the director changing a few lines here and there. From the beginning, the two would sit down with drafts and talk them over. Kazan really influenced some of his plays. These include productions of A Streetcar Named Desire, Cat on a Hot Tin Roof, Sweet Bird of Youth, and Camino Real.
Congressional Theatre: Dramatizing McCarthyism on Stage, Film, and Television (Cambridge University Press, 1999), Murphy's study of the theatrical response to the activities of the post-war House Un-American Activities Committee, was honored by the American Society for Theatre Research in 1999 as outstanding research in theater history and cognate studies.
In her books Miller: Death of a Salesman and O'Neill: Long Day's Journey Into Night (Cambridge
University Press, 2001), Murphy also makes extensive use of archival material to analyze the interaction among the playwright and theater practitioners as a play is written and produced.
"I look at the way the play is changed and interpreted in subsequent productions," she says. "It's endlessly fascinating."
---