Health Center's Outreach Manager
Spreads The Word To Physicians
By Kristina Goodnough

rom its new research building to its signature programs, the Health Center has transformed itself in recent years. Still more change is afoot, as plans proceed for a new ambulatory surgery center and another new research building. Keeping physicians in the community abreast of the changing Health Center and its services is a full time job for the new physician outreach manager.
The job belongs to Rick Daddario, who became the Health Center's first physician outreach manager last spring. The position is a natural for Daddario: he worked for years as director of constituent services for Gov. Lowell Weicker and then as legislative liaison for the Division of Special Revenue. Both jobs involved helping people interface with large institutions.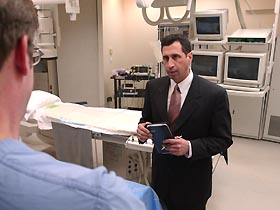 Rick Daddario, outreach manager, speaks with a physician at the Health Center.

Photo by Peter Morenus
Now Daddario drops into doctors' offices, introduces himself, and chats awhile, either with the physicians or with the office staff. "I love it," he says. "It's a great job, talking about the Health Center and figuring out how our services fit their needs."
Dr. Steven Strongwater, director of clinical operations, notes that the Health Center has "reinvented itself" in recent years. "We have new, world-class services here, new physicians, and strong new research programs linked to improving patient care," he says. "It's important to get the word about our services out to physicians, so they'll know about them and use them."
Much of Daddario's emphasis is placed on two of the Health Center's signature programs - cardiovascular health and bone and musculoskeletal health. "These are our strongest programs, the ones we believe best show our strengths in education, research, and clinical care," he says.
One group of physicians in Torrington didn't know the Health Center performs open-heart surgery. Daddario not only set them straight, but arranged a luncheon for them with cardiologists Dr. Bruce Liang and Dr. Michael Azrin. "I thought it was important for them to meet and talk face-to-face about the cardiology services we offer," he says.
Another time, Daddario fielded a complaint from a physician so frustrated with the time he spent on hold or listening to a recording when he called that he had given up referring patients to the Health Center. Daddario sat down with staff of the Call Center and Telecommunications to streamline the handling of the dedicated phone line for physicians and also tried to make sure the special number is well known to community doctors. "Feedback from the physicians since then has been enthusiastic," he says.
"It's also important for community physicians to know about our hospitalists - staff physicians who care for patients while they are in the hospital," says Daddario. "This program is very popular with a lot of physicians who don't have time to make rounds on their patients while they are in the hospital. But they can't use it if they don't know about it."
Jim Walter, assistant vice president for communications, says the physician outreach program complements the Health Center's consumer marketing and outreach activities. "With both programs working together, community physicians will know more about our specialists and feel comfortable referring patients to them," he says, "and the patients will be receptive when their physicians recommend they come here for specialty care."
The job involves considerable travel throughout the state, meeting community physicians, and keeping them informed about the Health Center. "I'm on the road a lot, probably at least 100 miles a week," says Daddario. "Patients tend to use the hospital and specialty services their physicians recommend. If physicians aren't familiar with us and our services, they won't feel comfortable sending their patients here."
---