Collection Of Artifacts Illustrates
History Of Nursing Profession
By Sherry Fisher

rs. Chase rests comfortably on a white iron hospital bed. Nearby, her baby sleeps in a pink bassinet. A dressing carriage at the foot of the bed holds an assortment of glass and chrome jars filled with small medical devices.
This scene portrays nursing in the early 1940s, when UConn's School of Nursing became the first baccalaureate nursing program in a public university in Connecticut.
Mrs. Chase, lying between white sheets, is actually the mannequin on which UConn students of the day practiced their nursing skills.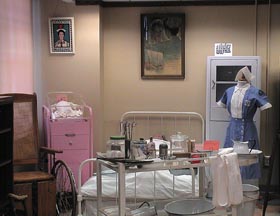 A display of items from the 1940s, part of the collection in the Nursing School's Dolan Room, includes a mannequin (shown here lying in bed) used by UConn students in the early days of the nursing baccalaureate.

Photo by Kathie Gable
This grouping is part of a collection of artifacts on display in the Josephine A. Dolan Room in the School of Nursing. Located on the third floor of Storrs Hall, the room was designed to honor Josephine A. Dolan, the School's first instructor of nursing, and to illustrate the history of the nursing profession.
The room, which was recently renovated, contains a permanent collection of nursing artifacts and rotating exhibits about the history of the profession.
Dolan, a professor of nursing at UConn for more than 35 years, donated the major portion of the collection.
One of the permanent displays features artifacts from the Nightingale era, including an adjustable Crosby bed (circa 1877) a wicker wheelchair, a wooden walker, and a wooden baby-tender that prevented toddlers from wandering about. There is also a single crutch from the Civil War and a pair of adult crutches fashioned from tree branches.
Mannequins dressed in military and nursing school uniforms are also on display, as well as World War I and II nurses' medals, Red Cross paraphernalia, nurses' caps and pins, and medication devices.
The papers of Josephine Dolan and other records dealing with nursing history are located in the Archives of Nursing Leadership at the Thomas J. Dodd Research Center.
Arrangements can be made to view the collection by contacting Kathe Gable at the School of Nursing, at 860.486.0613 or via e-mail: Kathe.Gable@uconn.edu.
---