Grandson Of Apartheid Prime Minister Tells How He Overcame Racist Past
By Richard Veilleux
Wilhelm Verwoerd grew up in a world of beauty. From his family's estate on the hill, he could see the mountains that surrounded Stellenbosch, South Africa; the river that ran through the town; and the streets lined with oak trees.
"It looked like your typical college town," Verwoerd told a crowd of about 150 students and community members gathered Feb. 6 in von der Mehden Recital Hall. "It was idyllic."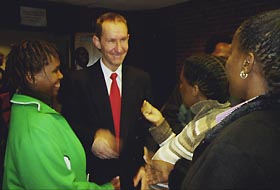 Wilhelm Verwoerd meets with graduate students from South Africa, from left, Noxolo Mafu, Nocawa Nabe, and Portia Matlala after his talk at von der Mehden Recital Hall February 6.

Photo by Elizabeth Omara-Otunnu
Verwoerd's comfortable life was largely the product of his family identity and the color of his skin. His grandfather, Hendrik Verwoerd, was a former South African minister and prime minister known as the "architect of apartheid" for his role in formalizing South Africa's system of institutionalized racism.
Prime Minister Verwoerd was assassinated in 1966, when Wilhelm Verwoerd was a small boy.
About 20 years later, after a long process of questioning and self-discovery, Verwoerd turned his back on his grandfather's policies and the racist ideology he had grown up with, and joined the African National Congress, the country's primary anti-apartheid organization.
It was a process that helped him realize even his pristine neighborhood was far from perfect.
Across the street from the beauty the young Verwoerd enjoyed was a much bleaker neighborhood, where the Africans lived; and in another direction, separated by railroad tracks, were the people of mixed race, known in South Africa as coloreds, who also lived in poverty.
"The distance was not very big, but in terms of my experience it was like a world apart," said Verwoerd, who is white. "The areas were completely separated. That was the 'success' of apartheid."
He had left Stellenbosch to study overseas several years earlier, escaping the cocoon in which he grew up, at last able to think for himself. Over the course of several years, he came to realize that apartheid could only harm his nation and its peoples, both black and white.
Until that time, Verwoerd said, he knew little beyond his own little world, where he was conditioned by family, friends, and fellow church members to accept the white version - his grandfather's version - of apartheid. "The vision I grew up with was that God created different racial groups and the only way to have peace was separate development," he said.
When he traveled to Holland and England, however, and talked to black South Africans, he learned about the other side of the coin - the forced relocations, migrant labor, pass laws and the destructive effect they had on families, the banning of political organizations including the ANC, and the imprisonment of political activists. And he learned that his surname carried a very different meaning to people outside the white community.
Hendrik Verwoerd, a hero among the Afrikaners, was hated by many South Africans. One black South African told Verwoerd that when the Prime Minister was assassinated, he and his friends ran into the streets and danced.
"They told me the period when my grandfather was prime minister was one of the darkest times of their lives," he said. "Initially, confronted with this, you want to run away. You want to say, 'This cannot be true.'"
Ultimately, Verwoerd decided to leave his past behind. "It became clear that the only way to move forward was to become involved practically," he said, "and to look for ways to use the privileges I inherited to make some contribution." He became a member of the ANC, and began working to address the legacy of suffering caused by apartheid. To his family and his church, however, he became an outcast.
For two years under Nelson Mandela's government of national unity, Verwoerd served as a researcher for the Truth and Reconciliation Commission, established to investigate apartheid-era human rights violations and to promote the healing process.
Later he became a lecturer at the University of Stellenbosch, and he now serves as a program coordinator for the ex-combatants program at the Glencree Centre for Reconciliation in Ireland, where his wife is South Africa's ambassador.
Verwoerd said he and his wife will return to South Africa in two years, when his wife's term as ambassador ends. He hopes to continue working in the field of reconciliation, perhaps starting a program similar to that of the Glencree Centre.
"I enjoy the hands-on work," he said. "I know there is much value in teaching, but there is so much to do. It will take much time and a lot of work to bridge the divides, bring people together. I'd like to be a part of that."
The event was sponsored by the UNESCO Chair and Institute of Comparative Human Rights.
After the talk, Verwoerd met with UConn students from South Africa.
"I never thought I would speak with a Verwoerd," said Noxolo Mafu, a black South African who is studying for a master's degree in education.
---