120 Years Ago - In 1883, the first graduates of Storrs Agricultural School received their certificates during a commencement ceremony held at the old Storrs Congregational Church. Six boys graduated, and each delivered a paper on an agricultural research topic. The commencement speaker on June 27, 1883 was J.M. Hubbard, a member of the Board of Trustees from Middletown.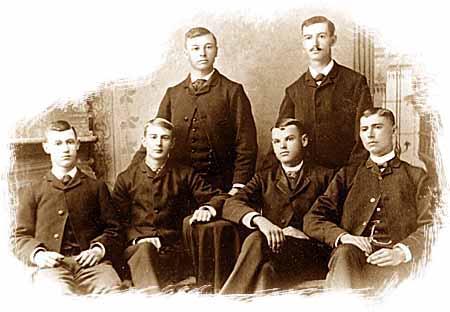 The first graduates of Storrs Agricultural School received their two-year certificates in 1893. They were: (left to right) Frederick Brown of Gilead (Hebron); CHarles S. Foster of Bristol; Henry R. Hoisington of Coventry; Burke Hough of Weatogue; Arthur S. Hubbard of Glastonbury; and Andrew K. Thompson of West Cornwall.
[ Photo From University Archives ]
110 Years Ago - In 1893, the school became Storrs Agricultural College, and formally accepted women as students; they had been taking classes informally since 1891. Also in 1893, SAC was designated as Connecticut' s land-grant college and Yale sued the state over its loss of land-grant status. A three-judge panel ruled three years later that Yale should receive damages of $154,604, but that the state could designate whatever institution it desired as its land-grant designee.
105 Years Ago -In 1898, immediately after graduation in June, four of the 14 graduating seniors joined the U.S. Army to serve in the Spanish-America n War. One of the four, Willis Hawley, visited Storrs on leave in late September. Two months later, on Nov. 18, 1898, Hawley died of typhoid fever at a Red Cross hospital in Philadelphia. The first graduate to die while in military service, Hawley was remembered with the naming of the campus armory built in 1914.
Also in 1898, George Flint succeeded Benjamin Koons as president of Storrs Agricultural College. Koons became the first president emeritus and continued to teach and serve as director of the Museum of Natural History. Flint was to have a brief and controversial tenure: accused of trying to move the agricutural college toward "classical education", he was forced to resign in 1901.
75 Years Ago -In 1928, Charles Lewis Beach retired as president of Connecticut Agricultural College, after serving 20 years as president. He had been a faculty member from 1896 to 1906, but after two years at the University of Vermont, he was called by trustees to return to Storrs as president. During Beach's tenure, the college saw its first major building expansion, with the construction of Hawley Armory, the Mechanic Arts Building, Koons Hall, a dining hall (now the Benton Museum), and Holcomb Hall. Started during his presidency, Beach Hall was named for him when it was dedicated in 1929.
70 Years Ago -On Sept. 15, 1933, Beach died, five years to the day after his retirement and 25 years to the day after he began his presidency in 1908.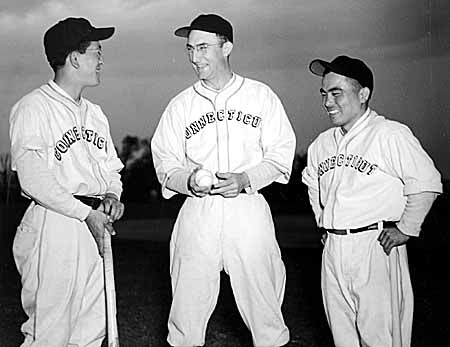 Imposed as a matter of national security, the United State government interned Japanese-Americans at camps in western states starting in 1942. However, some college-age internees were allowed to continue their education far from home. UConn accepted about a dozen of these students in 1943, and was the only higher education institution in the state to do so. Among the students welcomed to Storrs were two standouts in football and baseball: William Hayakawa (left) and Kay Kyokawa (right). This 1944 photograph shows them with baseball coach Dick Wargo.
[ Photo From University Archives ]
60 Years Ago -In 1943, nine Japanese-American students began classes at the University of Connecticut. The nine had been interned in camps with their families after the outbreak of World War II. UConn was the only institution of higher education in the state to accept Japanese-American students through a government program that allowed the students to complete their education.
Also in 1943:
The School of Law and College of Insurance were established, after UConn acquired the Hartford Colleges of Law and Insurance. (The College of Insurance was absorbed into the School of Business during a reorganization in the 1960s.)
The first women enrolled in the School of Engineering began classes.
A wartime prefabricated Roman Catholic Chapel was erected. It burned down in 1946. Mass was served in temporary quarters until the opening of Saint Thomas Aquinas Chapel two years later.
50 Years Ago - In 1953 - Football season opened in the new Memorial Stadium; a bill to replace the Board of Trustees with a Board of Regents was defeated in the state Senate; and the student newspaper, the three-times-a-week Connecticut Campus, became the Connecticut Daily Campus.
40 Years Ago - In 1963 - Homer Babbidge was inaugurated as UConn's eighth president. He succeeded Albert N. Jorgensen, who retired the year before after 27 years as president. Babbidge held the office for 10 years, stepping down in 1972.
30 Years Ago - In 1973 - Glenn Ferguson, president of Clark University in Worcester, Mass., was named UConn's ninth president. During his five-year tenure, the University administration was reorganized, moving from a provost system to a cabinet of vice presidents. Also, 1973 was the last year diplomas were issued on real sheepskin.
20 Years Ago - In 1983 - UConn launched its first capital campaign. Known as the "Second Century Fund," the campaign garnered more than $50 million in donations, more than double the campaign goal of $25 million.
---