To announce a visiting speaker in Coming to Campus, send a brief description (maximum 300 words) of the event, including the date, time, and place, and giving the name, title, outstanding accomplishments and, if available, a headshot photo of the speaker to: Advance, 1266 Storrs Road, Storrs, CT 06269-4144 or by e-mail: advance@uconn.edu, with Visiting Speaker in the subject line. The information must be received by 4 p.m. on Monday, a minimum of one week prior to the publication date.
Publication will depend on the space available. Preference will be given to events of interest to a cross-section of the University community.
Grandson Of "Architect Of Apartheid"
To Speak February 6


Wilhelm Verwoerd, grandson of the South African who spearheaded the implementation of apartheid, will discuss overcoming his racist heritage during a lecture at 7 p.m. on Thursday, Feb. 6 in von der Mehden Recital Hall.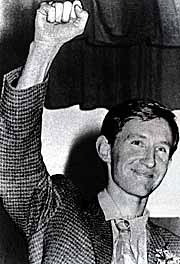 Wilhelm Verwoerd
Verwoerd's grandfather, Hendrik Verwoerd, was a former South African minister and prime minister, who was known as the "architect of apartheid" for his role in formalizing South Africa's system of institutionalized racism. Apartheid separated the races and treated black South Africans as second-class citizens. Hendrik Verwoerd was assassinated in 1966.
As a white South African, Wilhelm Verwoerd says he grew up cocooned from the harsh realities under which black South Africans lived. As an adult, Verwoerd began to question the morality, political sustainability and personal toll of apartheid. He went on to publicly support and join the African National Congress, South Africa's leading anti-apartheid organization, which came to power in 1994.
As a result, Verwoerd's family severed ties with him. During Nelson Mandela's presidency, Verwoerd served for two years as a researcher for the Truth and Reconciliation Commission, which investigated apartheid-era human rights violations in an effort to promote the healing process.
Verwoerd, who previously taught at the University of Stellenbosch, now works at the Glencree Centre for Reconciliation in Ireland, where his wife is South Africa's ambassador. The lecture is sponsored by the UNESCO Chair and Institute of Comparative Human Rights.