New Service Offers Health Center
Employees A Helping Hand
By Jane Shaskan
Students, faculty, and staff at the Health Center can take care of simple, routine errands without leaving the campus, thanks to a new service called dock3. They can take care of their laundry, dry cleaning, shoe repair, digital photo printing, DVD rental, or sending and receiving packages with a few mouse clicks and a visit to the dock3 kiosk at the Food Court.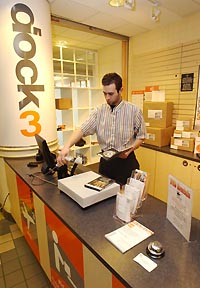 Robert Barker checks in DVDs at dock3, a new service to help Health Center employees with their chores.


[ Photo by Peter Morenus ]
"I love it," said Nancy Dean, administrative and clinical systems coordinator for research and sponsored programs. "I had four pairs of shoes repaired at a good price, and they got them back to me quickly and did a terrific job. I highly recommend the services."
Using dock3 is simple. The website can be accessed from home or office and, with a couple of keystrokes, most chores are as good as done. Employees simply create a personal log-in and they're set to go. Every dock3 member has a tab that keeps track of charges for on-site services that can be paid for online or by mail.
Picking up packages is a breeze. They're delivered to the kiosk and can be picked up at no charge when orders are placed through the dock3 website with one of the more than 180 national retail dock3 partners, including retailers such as Nordstrom, Timberland, J. Crew, Office Max, Best Buy, J. Crew, and Barnes & Noble.
"Employees pay the shipping costs charged by the retailer, but the convenience of picking up packages at the workplace is free," said Marci Nogueira, associate director of food and nutrition services, "as long as the retailer is a 'partner'. If not, there is a charge of $2.95." Members are notified by e-mail when a delivery comes in, and also receive periodic messages with special "members-only" retail promotions.
The convenience has been well received, said Nogueira. She notes that the shipping services were very busy during the holidays.
"It was so convenient," said Heather Clark, a postdoctoral fellow in the Department of Physiology. "I didn't have to leave the building and stand in line at the post office. I just had to go downstairs."
"Feedback has been very positive," said Nogueira. "Laundry service, especially for shirts, has been a hit with some of the doctors, and DVD rentals, a bargain at $2, are busy too."
Dock3 is hoping to expand and offer additional services, such as ordering movie and theater tickets, ski package promotions, and even on-site oil changes. "We expect services to grow and make life a little less complicated for the many people who spend most of their time on campus," she said.
For Valentine's Day, dock3 will be offering chocolates and red roses - a dozen for $20.
---