Distinguished Historian Focuses
On the Finest Of Details
By Claudia G. Chamberlain
A morsel of genuine history, according to Thomas Jefferson, is a thing so rare as to be always valuable.
The quest for such morsels is at the heart of Professor Richard D. Brown's academic career.
A scholar of early American social and cultural history and a prolific historian who specializes in a finely detailed approach to historical analysis known as microhistory, Brown says the study of history helps in understanding the struggles and problems society is facing today. "I've always believed that one can learn by exploring the past," he says.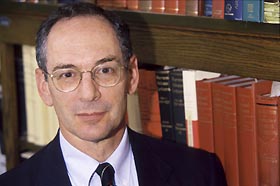 Richard Brown, Board of Trustees Distinguished Professor, is a scholar of early American social and cultural history.


[ Photo by Peter Morenus ]
Hooked on History
Brown was just a preschooler when he became enthralled by stories of Abraham Lincoln and George Washington. Introduced to history through children's books by his mother, a student of medieval French history, Brown continued to devour the subject in grammar school. He recalls that during the school lunch break, he would often stay behind at his desk to read ahead in his history textbook.
It was during his student days at Oberlin College that he decided to devote his career to history.
Brown went on to study for his Ph.D. at Harvard, where his mentor, professor emeritus Bernard Bailyn, says he always had a devotion to historical study: "He has a remarkably thoughtful and impartial approach to difficult historical problems - something as rare now as it was then," says Bailyn.
In 1965, Brown headed to France on a Fulbright award. While his wife, Irene Quenzler Brown, who has also enjoyed a distinguished teaching career at UConn, pursued her dissertation research, Brown taught the American Revolution to students at the University of Toulouse. He taught the course in French, a spectacular launch to a scholarly career as an American historian that has spanned nearly four decades - three of them at UConn.
Intellectual Evolution
Brown's journey through the corridors of history began with a keen interest in politics and society, and the transfer of society in the 17th century from Great Britain to American shores. His interest in the American Revolution followed, especially in what he calls "the grassroots dimension" in the transition from colonial
status to independence, and the movement of ideas and political consciousness through the country's social structure.
"The idea of informed citizens relates to contemporary politics, and whether citizens are
informed and how they're informed," says Brown. "One of the truly dramatic transformations of the 19th century was an exponential increase in the availability of multiple kinds of
information. That made the sorting issue the central issue. It meant that all kinds of information were placed in mutually competitive relationships."
He says the complex problems facing the country today have deep roots: "We have a political system that necessarily communicates in superficial ways and in which the context for understanding what's happening is usually lacking. Serious public issues have to compete with tabloid journalism, the weather, sports, and the entertainment world."
Years of teaching the American Revolution provided him the opportunity to compile a leading textbook in the field, Major Problems in the Era of the American Revolution. The book is now required reading in nearly 200 colleges and universities.
In what he calls his "intellectual evolution," Brown has published two ambitious works of synthesis: Knowledge Is Power is considered a seminal work in the history of communications and reading, and is cited by virtually every scholar in the field; the other, Modernization: The Transformation of American Life, makes the argument that Americans became modern in their behaviors and expectations long before their political system became modern.
"Americans were the most innovative, and the friendliest to change, of any population in the world in the 1800 to 1850 timeframe," says Brown. "This was in contrast to Europe, where the state became modern first and played the active role in leading the rest of society toward modernization." This pattern, he adds, has been repeated in developing countries in the 20th century.
Micro-Level Analysis
Brown is intrigued by the "power of microhistory," or the intensive analysis of a particular event or set of events that are joined in time and space.
"Instead of flying over the historical landscape to map its general contours, I now prefer to examine a tiny area and seek to understand it fully and minutely," he says.
"People have argued that history is just politics, that people can arrange the facts to suit them- selves and thus make any interpretation plausible. Post-modernists claim that the generalization s we offer are less the reflection of any historical reality and more the consequence of our own personal and subjective values and preferences," he adds. "For me, microhistory is an answer to that kind of criticism of historical writing."
His research in microhistory led to an experimental honors seminar he taught with his wife and to an undergraduate course in the spring of 2000 that was prominently featured in the media, including the Chronicle of Higher Education.
Together with his wife, Brown has used this microhistory approach in authoring a forthcoming book, The Hanging of Ephraim Wheeler: A Story of Rape, Incest and Justice in Early America (Harvard University Press). The book is set in Massachusetts at the beginning of the 19th century.
"We tell the story from different perspectives and we try to explain what brought Ephraim Wheeler to the gallows," says Brown. "It's also a story about poor people and prosperous people interacting in society."
A Source of Inspiration
Brown came to UConn from Oberlin in 1971 as an associate professor of history. He served as department head from 1974 to 1980 and as interim department head for a year in the mid-1990s. Last year, he was appointed the first director of the University's new Humanities Institute. He also heads the editorial committee that is overseeing the writing of the University's history. And in the fall, he was named co-chair of the Chancellor's academic plan task force.
Chief among his honors are National Endowment for the Humanities and Guggenheim Fellowships. And he was honored with the University's highest award for faculty, when he was named one of five 2002 Board of Trustees Distinguished Professors.
Brown has long admired Samuel Adams and John Adams, as well as Frederick Douglass and Wendell Phillips, although - with his penchant for precision - he stops short of describing any of them as heroes.
He has, in turn, inspired many of his students. William Guthrie Sayen, who earned a doctorate in history in 1998 and is now a history lecturer, has great admiration for his former professor:
"I'd characterize his intelligence almost as surgical, because it cuts to the core of the issue," says Sayen. "In the 12 years I've known him, I've watched him grow into a mentor role, finding creative ways of helping students realize their highest scholastic potential."
---