Women's Basketball Team Surpasses
Record For Consecutive Wins
By Richard Veilleux
It didn't come easily.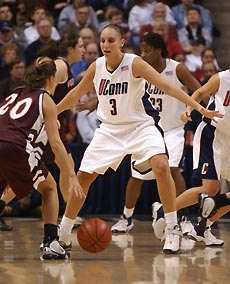 Diana Taurasi, assisted by teammate Willnet Crocket, plays defense on Virginia Tech January 13, one of the recent gamews that contributed to the UConn women's record winning streak. UConn beat Virginia Tech 69-57.


[ Photo by Peter Morenus ]
For several weeks, as the UConn women's basketball team crept ever closer to the record for consecutive victories in NCAA Division I women's basketball, the team seemed tense. Less than one year removed from a season when most UConn opponents were finished within the first five minutes of a game, these last contests - against Virginia Tech, Tennessee, Seton Hall and, finally, Georgetown - were, actually, contests. Except for Georgetown - the record breaker - all went down to the proverbial wire.
Though few of the hoopsters said it aloud, the pressure had to play a role. And rightly so. Winning 55 games in a row (56 at press time) is hardly easy. In fact, in Division I basketball, it's only been done twice before, both times by men's teams: the University of San Francisco won 60 games in 1955 to 1957, and UCLA 88 from 1971 to 1974.
Getting to the record, the Huskies shot less than 35 percent last week in beating Seton Hall to tie the record at 54, and Georgetown to surpass it. But seeming more relaxed with the pressure off, the Huskies let loose in what had been expected to be their toughest test of those three games: they made more than 65 percent of their shots in the first half, before finally crushing Notre Dame by 19 points. (The team's last loss, in the 2001 NCAA Final Four, was to Notre Dame.)
"Right now, more than anything, it's a testament to the day-to-day hard work and the way we do things and the players' ability to focus and treat every game like it's the most important game," said Geno Auriemma, the women's basketball head coach. "The longer the winning streak goes, the more we realize how hard and difficult it is to do. That's why I'm really proud of this group, who have had to do it under the most difficult of circumstances.
The previous women's NCAA Division I record was 54, set in 1981-82 by Louisiana Tech.
---