Multicultural Office To Offer Diversity Training
By Richard Veilleux
Diversity training isn't a black thing. Nor is it a Latino, Asian, or Caucasian thing, according to Carlian Dawson, UConn's new director of diversity training.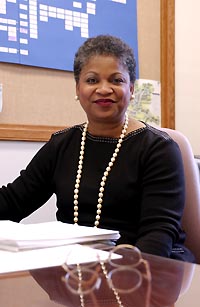 Carlian Dawson, director of diversity training.

Photo by Peter Morenus
"This is not a people of color issue, it's an everybody issue," says Dawson, who hopes to begin training UConn's more than 4,000 employees by mid-February. "It's about respecting people. Being fair in our discussions. It's about thinking before you speak, and giving people time to speak."
Those attending the sessions Dawson is currently scheduling should have plenty of time to speak, she says. The sessions offered during the next six months will focus on small groups and interaction, not lectures. They also will be just the first in a series of workshops that, Dawson hopes, will continue as a regular part of the UConn experience.
Dana McGee, director of the Office of Diversity and Equity, and Damon Williams, assistant vice provost for multicultural affairs and international affairs, will help Dawson teach the sessions.
"First, we have to address the state mandate (a requirement that all employees receive at least three hours of diversity training)," Dawson says. "After that, we'll start looking at the root causes of the behaviors, and study what motivates our decisions. Finally, we have to evaluate and add to that education and continue to grow. It's an ongoing process."
It also is a vital process, says Ronald Taylor, vice provost for multicultural and international affairs.
"One of the first charges the Diversity Action Committee received was to create a more welcoming environment for people of diverse backgrounds," he says. "This speaks to that in a very important way. As we become more sensitive to those with different perspectives, different background, the campus becomes a more comfortable place for everyone."
Dawson has been providing diversity and leadership training to K-12 school districts and corporations for more than a decade. Most recently, she worked as a principal consultant for The JorSon Group of Rockford, Ill., working with companies on organizationa l effectiveness, diversity leadership, and integrating strategic plans. From 1998-2001, she was an adjunct professor at the Michigan City, Ind., campus of Purdue University, where she planned, developed, and taught courses in several departments.
Dawson, who joined UConn in the fall, earned a master's degree in multicultural education in 1984 from Arizona State University, and a doctorate in education administration from Illinois State University. She earned her bachelor's degree, in elementary education, from Grand Canyon University in Phoenix, Ariz.
Dawson says her background prepared her well for the UConn position.
"UConn is the same as any business when it comes to attracting and retaining employees," she says. "You have to make sure there's a process in place that is conducive not only to bringing people here, but to keeping them here. And it's the same as a business in retaining people - they want to be valued, and feel good about the experience."
During the past year, a consulting firm provided three-hour diversity training sessions for about 1,000 UConn employees, but the bulk of the work lies ahead for Dawson, McGee, and Williams. Dawson also will train several volunteers from the UConn community to work with her in Storrs, and she will train one person from each of UConn's regional campuses to lead workshops there. The UConn Health Center is in charge of its own training.
Dawson is currently scheduling training sessions for UConn's upper management team, including deans, vice chancellors, vice provosts, and other senior administrators, while also working out the logistics involved in delivering training to large numbers of faculty and staff.
And, although it may take only six or eight months before all UConn employees have attended a training session, Dawson says "it will take much more time before this (educational) process becomes a function of our daily campus worklife, where we have attained and can interact with the appropriate level of cultural competency.
"Training cannot change actions immediately. It will take us time," she adds. "We will create a set of expectations - high expectations - and employees will be challenged to work up to and live up to those goals."
---