Speaker Cautions Against Eurocentric
View Of Human Rights
By Sherry Fisher
The human rights movement is deeply Eurocentric, and almost seems at times to be neoimperialist, according to James Ron, assistant professor of sociology at McGill University.
Ron, the Canada Research Chair in Conflict and Human Rights, spoke Nov. 18 in the Thomas J. Dodd Research Center's Konover Auditorium. His talk, Western Power and Human Rights: Cooptation or Confrontation?" was part of the Gladstein Human Rights Lecture series.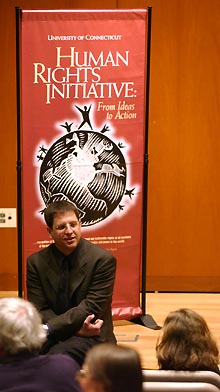 James Ron of McGill University gave the Gladstein Human Rights Lecture at Konover Auditorium November 18.

Photo by Peter Morenus
"Think how hard it is today," he said, "to come with a message of human rights to Islamic countries and say, 'this is the way we should go, because you, Muslims, don't have any ideas about where justice comes from. We invented it in Geneva.'"
Human rights are not a Western invention, Ron said.
"If we say throughout history there have been numerous attempts to combat oppression," he said, "one of those is human rights, but it's certainly not the only one or the most important one.
"The initiatives take place in different places: from Africa during the anti-colonial movement; in the southern United States from blacks in the civil rights movement; from peasant uprisings in Algeria. The initiative for resisting oppression comes from all over."
Yet, he said, the fight for human rights is often portrayed as coming from the West.
Ron said he is critical of the human rights movement, but his stand is at the price of "a fair bit of personal pain, because I have spent the last 10 years engaged in the human rights world. It's a new phenomenon for me to critique something that I love."
Ron said his criticism "is interesting only if you understand the enormous hopes that are pinned on the human rights movement today. Human rights are increasingly viewed, mostly by liberals in the West, as a potential savior of the world. They believe this is the movement that will do the trick."
There are "signs everywhere that human rights is becoming an enormously powerful item on the Western agenda," Ron said, noting, "this is very much the movement that captured the imaginations of liberals, in a way that other movements captured their interests in the '60s."
But, he said, when human rights organizations put out reports, the information is often distorted and manipulated in the media and by powerful governments: "In many ways, this is the least problematic form of American domination and neoimperialism of the movement, because it's overt, it's clear, and it can be combated in relatively straightforward ways.
"When the ethos of the human rights movement is described as being largely centered in the West, the message becomes at best irrelevant, and at worst, something that causes anger," Ron said.
Human rights should be taught as part of a broad package, he said: "You don't isolate it out as some magnificent, unique invention."
Ron has worked with aid groups like Human Rights Watch, preparing book-length reports on the plight of refugees in areas including Chechnya, Kosovo, and Nigeria.
His forthcoming book, Frontiers and Ghettos: State Violence in Serbia and Israel, examines links between state coercion and institutional settings.
---