The Wilbur Cross Building will be rededicated in a ceremony on Nov. 20, at 3:30 p.m. in the North Reading Room. Three former presidents of the University will attend the ceremony:
John A. DiBiaggio (1979-1985) became UConn's 10th president in June 1979, after serving three years as vice president for health affairs and executive director of the Health Center in Farmington. During his tenure as president, the University adopted an academic master plan known as "Opportunities for the '80s"; mounted its first capital campaign, The Second Century Fund, which raised more than double its goal of $25 million; and first attained a degree of fiscal flexibility through creation of the Tuition Fund, which allowed the University to retain tuition payments.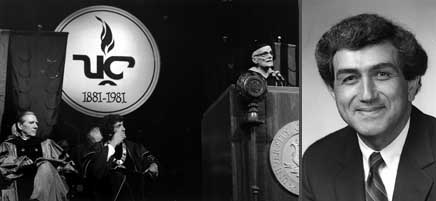 The University of Connecticut celebrated its 100th anniversary during John A. DiBiaggio's presidency, in 1981. With DiBiaggio in the photo at left are Alexander Heard, then-chairman of the Ford Foundation (left), and Albert Waugh, former provost of the University (right).
A native of Michigan, he received his bachelor's degree from Eastern Michigan University, a dental degree from the University of Detroit, and a graduate degree in university administration from the University of Michigan. He left UConn in 1985 to become president of Michigan State University. In 1992, he moved to Tufts University as president, and led a $400 million capital campaign there. DiBiaggio retired from Tufts in 2001, becoming President Emeritus.
John T. Casteen III (1985-1990) began his tenure as UConn's 11th president on Aug. 1, 1985, after serving for three years as Secretary of Education in Virginia. During his years in Storrs, the University revamped its telecommunications system through a $13.5 million project and saw construction of Gampel Pavilion, the United Technologies Engineering Building, an addition to the Pathobiology Building in Storrs, and an administrative building at the Health Center in Farmington. Also, the University's Development Office and the University of Connecticut Foundation were reorganized; the University's international programs were consolidated; and the Asian American Cultural Center was established.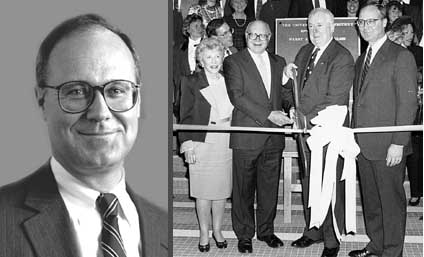 The Harry A. Gampel Pavilion opened during the presidency of John T. Casteen III (right). Also pictured are, from left, Edith Gampel, Harry Gampel, and then-Governor William O'Neill.
Casteen became president of the University of Virginia in August 1990. He has overseen a major restructuring of the University of Virginia's administrative and governance structures; one of the largest capital fund campaigns ever undertaken; significant improvements in academic programs; and major expansions of the University's physical facilities.
Harry J. Hartley (1990-1996), a native of Alaquippa, Pa., came to UConn in 1972 as dean of the School of Education. He served three times as vice president for finance and administration for three different University presidents. Hartley became UConn's 12th president in December 1990, after several months as interim president. During the Hartley years, the University attained greater flexibility in the management of its fiscal affairs; developed and adopted a strategic plan; celebrated "100 Years of Women at UConn" in 1991-92; commemorated "50 Years After Nuremberg: Human Rights and the Rule of Law" in 1995-96; saw the first sitting U.S. president to visit campus, when President Bill Clinton dedicated the Thomas J. Dodd Research Center in 1995; and successfully fought for UConn 2000, the $1 billion program to rebuild and renew the University's infrastructure.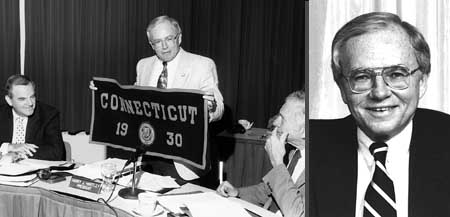 During the Hartley presidency, UConn celebrated the 100th anniversary of the admission of women and commemorated the rule of law following World War II. It also saw the passage and early implementation of UCONN 2000. At a meeting of the Board of Trustees, Hartley is seen here holding a 1930s banner presented by then-chairman Lewis Rome (left). Also pictured at right is former trustee Frank Rich.
Hartley returned to teaching after stepping down as president in 1996. This fall, he set a record for years of service by a UConn president, having surpassed Charles L. Beach's 30 years on the faculty and as president.
---