Husky Hero 'Rocky' Anderson
Keeps Health Center Moving
By Pat Keefe
The UConnCares Council's PAWS awards stands for: Part of a team; Awesome attitude; Wonderful work ethic; Superior service.
That list of attributes might also be a personalized description of Carl "Rocky" Anderson, the Health Center's newest Husky Hero.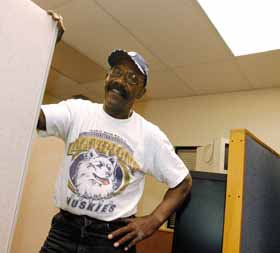 Carl 'Rocky' Anderson moves everything from furniture to office dividers at the UConn Health Center. His hard work and positive attitude earned him the designation 'Husky Hero'.

Photo by Peter Morenus

It takes four PAWS awards to be named a Husky Hero, the Farmington campus' version of the Medal of Honor. Only one other person has been designated a Husky Hero since the program began a couple of years ago.

Accolades All Around
Consistency in service above the call of duty is one of the award's criteria. The things people say about Rocky are remarkably consistent too:

"He's excellent to work with."

"He does a great job."

"He's always cheerful."

Rocky is the Health Center's mover. "Storekeeper assistant" is his official title, but he's the Health Center's office layout expert and office furniture guru. If you're moving, relocating, or just rearranging, Rocky's your man.

"I've always had a lot of energy and I like to do something to use it up," he says. "I like my job. I like doing physical things. Always have. It feels good to be active."

Rocky, who grew up in New Rochelle, N.Y., and now lives in Hartford, has been in the moving business for more than 20 years. Previously he moved families and households, and he first came to the Farmington campus as a moving contractor. He's been an employee of the Health Center for eight years.

"He's excellent to work with," says Bob Tryon, director of space allocation and management in the medical dean's office. "We do some sensitive work here - department renovations, relocating people, moving labs and clinics around. Rocky is an accommodating, polite professional who will go the extra mile to get the job done."

Julia Gross, a research assistant, is lab manager in Dr. Kent Morest's neuroscience lab. The lab was relocated and Rocky did the moving. "He does a great job," Gross says. "This was a big move with all of our equipment. It went off without a hitch."

She said that beyond his professionalism, more than once Rocky showed another virtue: patience.

"A couple of arrangements we had planned weren't going to work," she recalls. He said, "No problem!" and moved the offending item.

"He was completely patient with us," she says.

Joan Krenn, staff accountant, moved to the third floor of the Administrative Services Building a couple of years ago. Rocky was the moving man. In her new location, she developed carpal tunnel syndrome and had to have the office reconfigured. "I saw Rocky busy with another move and asked him if he had a chance to lower my keyboard table. It wasn't even an hour later that he was in my office fixing it," she says.

"He's always cheerful, always friendly. He's an awfully hard worker and a nice person to be around," Krenn adds.

The Human Resources Department on the first floor of the Administrativ e Services Building did some consolidating, reorganizing, building, and renovating over a number of months. To get the project done, various people and workstations had to move from place to place on the floor several times. Rocky did all of it.

When the project was finally over, all of Human Resources wanted to nominate him, so they made a group nomination.

"He was so wonderful," says Ann Smith, manager of training. "He moved some of us three or four times. He was always friendly, helpful, and gracious. I don't think the word 'No' is in his vocabulary."

Rocky says one way to keep cheerful is to "keep on truckin'" and make yourself scarce. "I'm mostly not around that long," he says. "I do a move and meet some people and they're real nice. Then I go somewhere else. It's not like I'm sitting in a cubicle."

Husky Fan
That he should receive a Husky Hero award is even more special when you consider his devotion to the Huskies, especially the women's basketball team. Rocky bleeds UConn blue. His moving attire consists of a Husky baseball cap, various Husky sweatshirts and a Husky women's basketball championship T-shirt. "I love my Huskies," he says.

Those who nominated Rocky for the award would scarcely quibble with the statement, "Rocky, you move me."

Says training manager Ann Smith: "He's an important part of the Health Center. He helps make this place a community - and a comfortable one."




---