Allied Health Programs Train Students
To Meet Critical Health Care Needs
By Sarah Breckenridge

magine sitting in a stark waiting room. You've just had a sample taken to determine if you have cancer. You wait for hours, but then you're told the results won't arrive today.
Imagine your baby is born with multiple birth defects, and your doctor suspects the cause is genetic. It will take more tests of the baby's chromosomes to confirm or deny the suspicions, but the results could take weeks.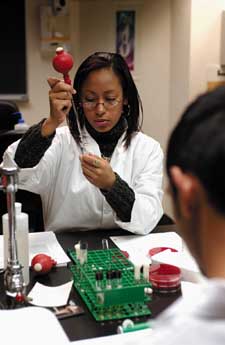 Krystal Taylor, an undergraduate majoring in allied health, handles a lab sample with a pipette during a class on infectious diseases.

Photos by Peter Morenus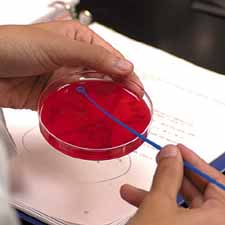 Imagine last weekend you played tag with your kids in your backyard. That evening you found a tick in your daughter's skin. You've had her tested for Lyme disease, but the results won't return for days.
In each scenario, the wait may take longer than it should because of an acute shortage in cytotechnologists, cytogenetic technologists, and medical technologists.
A report by the Association of Schools of Allied Health Professions says there is little public awareness of the allied health professions, and this may have contributed to the shortages. The problem is expected to grow, as many professionals of the baby boomer generation approach retirement.
UConn faculty in the School of Allied Health hope to begin addressing the shortages by increasing public awareness of allied health professions, and boosting student recruitment.
The University offers one of eight approved cytogenetic technology programs in North America, one of four cytotechnology programs in New England, and one of only two active medical technology programs in Connecticut.
Joseph Smey, dean of allied health, says he hopes that increasing the number of allied health professionals by training more students will not only alleviate the shortages but also take the burden off those already working in the field.
He says these professionals are much like airplane pilots, and the consequences of overworking potentially fatal: "Many allied health professionals are involved in critical life and death situations. There are only so many tests you can do until you need a rest."
The School hopes to attract more students into the field by expanding its recruitment efforts through the new Division of Health and Human Development; offering additional scholarships to students entering allied health fields; and developing an articulation agreement with the state's community colleges.
November 3-9 is designated nationally as Allied Health Professions Week.
---