Teaching Fellow Richard Clark Sets
The Tone In Class With A Smile
By Sarah Breckenridge
Professor Richard M. Clark greets his students with a welcoming smile. It goes a long way toward helping them feel comfortable in class, and it's part of his emphasis on being accessible.
"Accessibility does not simply mean being physically available," says Clark, a professor of nutritional sciences at UConn for the past 25 years. "It means creating an atmosphere where the student is comfortable with the teacher."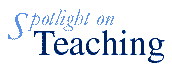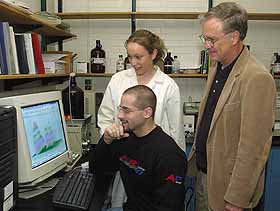 Richard Clark, right, professor of nutritional sciences, discusses a lab analysis of a vitamin assessment with two of his graduate students, Kristen Gaffrey, standing, and Rich Phelps.

Photo by Shannon McAvoy
Clark's approach to teaching has earned him accolades from both students and faculty.
"He really cares about students in the department," says graduate student Kristy West.
Colleagues also hold him in high regard. Cameron Faustman, a professor of animal science, says Clark is one of the very best teachers in the College of Agriculture and Natural Resources: "He interacts with his students on a level that they can appreciate. He is compassionate, and is sincerely interested in students."
Clark's accomplishments as an educator were recognized earlier this year when he was named a University Teaching Fellow, the highest teaching award UConn offers.
Clark, who earned a master's degree in animal nutrition from University of New Hampshire, and a Ph.D. in animal nutrition at Virginia Polytechnic and State University, conducts research on lipids and fat-soluble vitamins. His office is located next door to the Dairy Bar.
He says his inspiration for teaching came from many excellent teachers, who devoted a great deal of individual time to him as an undergraduate. He learned from his experiences as a
student that "it is the personal type of attention that really makes the difference".
Clark applies this approach to his own teaching.
He makes it a practice to be accessible to his students and advisees, engaging them both in and outside the classroom. Sometimes this means chatting with students at venues such as the restaurants in the Student Union, or while he completes his five-mile daily jog.
He is also willing to devote an extensive amount of time to each student. Former student Margery Lawrence says he never takes on more students than he can handle.
Lawrence was inspired by Clark to pursue an academic career. She now teaches at Saint Joseph's College in West Hartford.
Clark continually strives to improve his teaching by trying out new techniques in the classroom.
"He tries to get you to think beyond your normal focus by presenting new ideas and different perspectives," notes graduate student Kristy West.
To teach his students about the scientific method, for example, he encourages them to explore the process of discovering a cure for pellagra, a vitamin-deficiency disease caused by lack of niacin, an element found in the B-complex vitamins, that killed many poor people in the United States during the early part of the 20th century.
The student is "sent back in time" to investigate how Joseph Goldberger, a physician in the government's Hygienic Laboratory, discovered that pellagra had a dietary cause. Clark presents this material through a multimedia web-based tutorial, in a format reminiscent of the "Carmen Sandiego" detective series.
The pellagra exercise is one example from an extensive project Clark has developed called "Critical Thinking in Nutrition and Health Science: A Web-Based Tutorial."
This semester he is refining the project, with a grant from the Connecticut TALENT Program, a program that fosters collaboration among faculty and students at various in-state institutions on projects to promote learning by using computer and other technologies.
"Demonstrations are deadly," Clark says, adding that if students are not engaged, they will not learn effectively. He says multimedia can be a way to involve students in the learning process.
Jeff Velez, a UConn alumnus who is now at Harvard Medical School, says his former professor encourages students to teach themselves. When confronted with a question, Velez explains, Clark helps students develop their own answer, rather than simply providing it for them.
"For Professor Clark, teaching is not conveying ideas, it is empowering his students to grasp them," he says.
Velez adds that Clark's enthusiasm for his subject is contagious. "Time and time again, his students praised his ability to elevate them to a level of thought and interest that paralleled his," he says.
Clark joins a couple of dozen faculty members named as Teaching Fellows since 1994. Teaching Fellowships are awarded each year to outstanding University educators, who are nominated by faculty or senior administrators.
Clark's selection as a Teaching Fellow caps a series of teaching honors he has received. He has previously received the Donald M. Kinsman Award for Undergraduate Teaching, the College of Agriculture and Natural Resources Alumni Association Award for Excellence in Teaching, the National Association of Colleges and Teachers of Agriculture/UConn Teaching Award of Merit, and the USDA National Food and Agricultural Sciences Excellence in College and University Teaching Award.
---