Leading Cancer Researcher
Studying For Medical Degree
By Jane Shaskan

eekday mornings, leading immunologist and cancer researcher Pramod Srivastava hangs up his lab coat, grabs his books, and goes to medical school. He sits among students half his age and listens to professors often younger than his 47 years, seeking to learn more about medicine.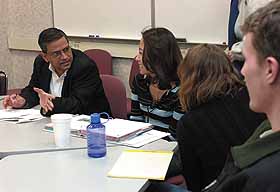 Pramod Srivastava, a top immunologist and cancer researcher, enrolled this fall as a student at the School of Medicine. He is pictured here with some of his classmates.

Photo by Peter Morenus
"I felt during my recent research that I needed to learn more about physiology, pathology, and histology of tissues, among other things, in order to better understand questions of interest to me," Srivastava says. "I increasingly felt the need to understand the issues at every level - molecular, cellular tissue, and the body as a whole - for deeper study. I've been acquiring bits and pieces of information as I went along, until one day I yelled to myself 'go to medical school!'"
Srivastava recalls the words of Richard Berlin, associate dean of the Health Center, who once told him that a medical education is perhaps the best way to learn about a single species.
Switching Gears
After three months as a medical student, Srivastava admits it's not easy. "Habits of the mind of a good researcher are quite different - even contradictory - to those required of a good medical student," he says. "For more than 20 years, I've been thinking as a researcher. Those reflexes don't always work as a student."
Although he is finding medical school hard, he says he is getting what he hoped from it. "I'm learning in a new context, and that gives me a new understanding of the body, even new ideas for experiments," he notes.
"I may be stretched to my limit, but even that is a privilege," he adds. "How rarely in life does one get to feel that one is being pushed to the limit in so many ways?"
Held to the Same Standard
Despite the fact that he works at the Health Center, Srivastava's admission to the School of Medicine was never guaranteed. Like other applicants, he had to take the grueling MCAT exams. But he was a step or two ahead: he already holds a bachelor's and a master's degree in science, a post-graduate diploma in microbiology and biotechnology, and a Ph.D. in biochemistry. He studied for the MCAT for a total of one hour. The test results, he says, were "not bad."
Srivastava received his postdoctoral training at Yale, held a research fellowship at Sloan-Kettering and, before coming to the Health Center, was a professor of immunology at Mount Sinai School of Medicine and at Fordham University in New York.
He currently holds the Physician Health Services Chair in Cancer Immunology at the Health Center, lectures worldwide, publishes extensively and in the most prestigious academic journals, and is recognized as one of the leading cancer researchers in the world. He is also director of the Cancer Center at the Health Center.
He is listed in several Who's Who's, and serves on the editorial boards of a number of scholarly journals in immunology and medicine.
Just Another Student?
Joining the ranks of the Class of 2006, Srivastava is one of 83 medical students, and he hoped no one would know who he was. But it wasn't long before his fellow students realized they had a world expert in their class.
"They have been so supportive and enthusiastic about my being a classmate," he says. "I'm old enough to be a parent to them, but I feel embraced by them as a fellow-student."
Srivastava says he finished his formal education at the age of 26. "Now, more than 20 years later, I'm immersed once again in the rhythms of student life," he says. "Socially, it's very different from my usual interactions as a professor, a scientist, and an administrator, but I feel very privileged to study along with my fellow medical students. I feel energized by their enthusiasm, their idealism, and the innate sense of joy that comes to the young so naturally."
With a schedule that would exhaust most people, Srivastava still finds time to spend at home with his 11-year-old son, read for pleasure, and go to the gym, in addition to his regular duties as a Health Center faculty member and administrator.
Study is a daily exercise, and Srivastava thinks he's tickling his son's curiosity. "He sees me doing my homework, studying for the next class, the examinations, et cetera, every night," he says.
Will he practice medicine after earning his medical degree?
When he was 17, Srivastava recalls, he had no interest in attending medical school: "I didn't want to be around sick people.
"Now, as a medical student, I see patients for half a day each week, and I see them in a different way. It's not negative for me anymore," he says. "Perhaps I have just become older, more aware of my mortality, and filled with a more direct need to serve others."
He says he is not sure what he'll do with his medical education, beyond learning for its own sake, although he can envisage himself practicing clinical medicine. "For now," he says, "I'm taking things a week at a time. I'll see how it goes."
---