Poll: State Residents Give
Public Schools High Grades
By Janice Palmer
Most Connecticut residents think their schools are doing a good job.
That finding, in a poll commissioned by the Neag School of Education's New England Center for Educational Policy and Leadership, goes against a national trend.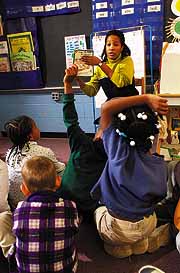 A teacher works with first-grade students in an unidentified Connecticut public school. The state's public schools received a positive rating in a recent poll commissioned by the Neag School of Educatino.

Photo by Paul Horton
"This poll is telling us something important," said Richard Schwab, dean. "While deficiencies within public schools are often the subject of headlines, Connecticut's citizens perceive that their schools are improving. When we asked them to grade their schools, 59 percent said they would give them an 'A' or 'B', yet in a comparable national study, only 47 percent gave their community schools those same grades."
The poll, conducted by the Center for Survey Research and Analysis at UConn, found that the top issue in this year's governor's race was improving public education. Seventy-four percent rated it as very important, and an additional 22 percent said it is "somewhat" important. Another 16 questions on the poll related directly to education issues and were posed to all respondents, not just registered or likely voters.
Overall, a majority of respondents think their local schools are doing a good to excellent job (61 percent) in providing a good education; 65 percent say statewide achievement testing has helped improve the quality of Connecticut's public schools and student learning.
One third of respondents (66 percent) think the funding for public schools is not enough, and 53 percent would be willing to pay higher taxes to increase school funding.
When given a list of choices that included school violence and poor teacher quality, the respondents identified lack of parent involvement as the biggest problem (46 percent), followed closely by overcrowded classrooms (45 percent). School violence was next on the list at 31 percent, and unsafe or unhealthy school buildings at 24 percent.
When considering improvements in education, the top two strategies for improving student achievement that respondents supported were reducing class size (80 percent) and providing special training for teachers beyond their college degrees (55 percent). Tax credits or vouchers for education were favored by 51 percent of the respondents.
At a time when more school districts are turning to pay-to-play fees as an option for covering the expenses of sports and other extra-curric ular activities, a majority of those polled (58 percent) said they oppose such fees.
"This poll provides some excellent guidance on public policy for our schools. If we are truly sincere about the continued improvement of teaching and learning, these issues need to be addressed," said John MacDonald, director of the policy center and a professor-in-residence at the Neag School's Department of Educational Leadership.
The poll was administered by telephone from October 16 to October 20, with a scientific sample of 726 Connecticut residents. The margin of error was +/-3.5 percent.
---