Latinos Rarely Seen or Heard,
Claims Social Work Professor
By Sherry Fisher >
Latinos are often "invisible," says Julio Morales, a professor of social work and community activist. They are missing from the theater, movies, mainstream media, and politics, despite being the fastest-growing and largest minority group in the nation.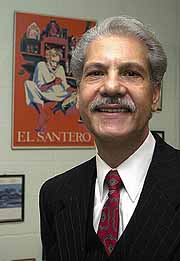 Professor Julio Morales spoke at the School of Social Work October 24 about the public 'invisibility' of Latinos.

Photo by Peter Morenus
Morales spoke October 24 in the Zachs Community Center at the School of Social Work.
"If you go by what we see on television," Morales said, "Latinos do not get sick, we do not go to hospitals, we do not go to schools, we do not have pets, we do not brush our teeth, we do not have toilet paper, we do not buy cars, and there are no angels escorting us to heaven."
Latinos account for less than 2 percent of all characters on television, he said.
"Given that Latinos comprise 26 percent of Chicago's population, why are we invisible in the television show ER?" he asked. "Why is Providence, a show that takes place in that city, void of Latinos, when 30 percent of its population is Latino? Why is the program Judging Amy, theoretically based in Hartford - where Latinos make up 40 percent of the population - a black and white show?"
Morales discussed taking his 13-year-old grandson to see West Side Story at the Bushnell recently. "I used the experience to talk to him about racism and stereotyping,"
he said.
"As they praise America while condemning Puerto Rico, one of the characters sings about missing Puerto Rico, wanting to go back to San Juan," Morales said. "The retort is, 'I know a boat you can get on.'" Puerto Ricans are also portrayed as violent killers in the show, he added.
He said West Side Story ironically illustrated the invisibility of Latinos in the United States: "Most of the characters playing Puerto Ricans were non-Latino. That pattern has been the rule, not the exception."
According to Morales, the past and the present of Latinos in the United States is minimized, despite their numbers and contributions . "The history, struggle and aspirations of Latinos and Latinas in the United States continues to be concealed," he said.
"I can't tell you the number of times that I have read a story, wanting information from a Latino perspective, and seen only black and white statistics," he added.
Morales said the concept of race is socially constructed. "When we say black or white, Asian or American Indian, we are usually describing our interpretation of how we perceive the features of an individual or how an individual identifies himself or herself. Ethnicity is also socially constructed," he said.
"Latino" is an ethnic classification, he pointed out. Latinos can be of any race. They comprise 12.5 percent of the nation's population, or 35.3 million people.
"A Puerto Rican person may look white; others may look black; and others may have some mixture of black, white and Indian," he said. That's why historically, there has been an undercount in the U.S. census of Latinos in the United States, he explained.
If forced to identify themselves as white, black, Indian, or Asian, Latinos disappear. Reacting to mounting pressures to do a better job of counting Latinos, the 2000 census asked everyone to list members of their households identified by Hispanic or Latino. The census now identifies Latino people in the U.S. who can trace their heritage to one of 19 Spanish-speaking nations in Latin America.
Morales said Latinos suffer from high poverty levels, low education rates, and poor access to health care. The statistics demonstrate that poverty and stress are higher among Latino than any other identifiable group. He also said Latinos are missing from most academic settings - as professors and students - and also are missing from America's middle class.
Morales said Latino voices must be heard. "Acknowledging and including Latinos in all aspects of America's life," he said, "will further empower not only Latinos but the entire nation."
---