Diplomat Calls For Support
To Help Rebuild Afghanistan
By Elizabeth Omara-Otunnu
After 23 years of war, Afghanistan urgently needs help from the international community to rebuild the nation and prevent further instability, according to Haron Amin, deputy chief of mission at the Afghan Embassy in the United States. He was the keynote speaker at a half-day conference on "Afghanistan: Reconstructio n and Reconciliation, Rebuilding a Nation" October 29 in the Rome Commons Ballroom.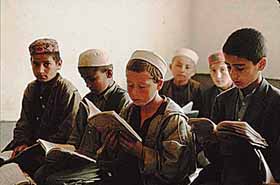 Despite few resources, these boys are eager to study, as peace returns in Afghanistan.

Photos by Trivision Studios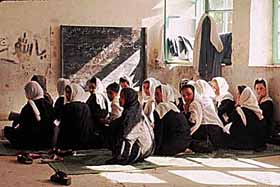 There is enormous demand for education in Afghanistan, but the few facilities that exist are sparse, as shown in this picture of a school.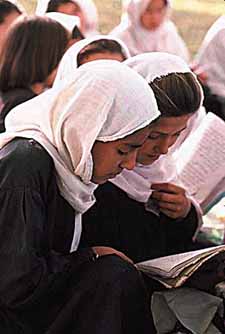 Many Afghan women, like these, previoulsy had no opportunity to study.


In the years since the Soviet invasion in 1979, through the period under Taliban rule, and during the recent operations against al Quaeda elements in Afghanistan, "all facets of Afghan life have been shattered," he said.
"It is important to understand the significance of Afghanistan," said Amin, a former spokesperson for the Northern Alliance. "Walking away from Afghanistan without paying due attention would be problematic. Sept. 11 may occur again if Afghanistan is abandoned."
He drew a distinction between Afghanistan and those countries that follow militant Islam. "The true message of Islam is one of moderation," he said.
Amin noted that the country aims to have free and fair elections by the beginning of 2004 and there is now a constitutional commission to begin the process of drafting laws. "Afghanistan could become the ideal model of a country inhabited by Muslims but having modern institutions," he said.
The situation is still fragile, however. "Afghanistan is caught between chaos and (President) Karzai," Amin said, "and Karzai is caught between guns and money."
He said although the international community has pledged money, not much assistance has been forthcoming, and what money has been given to Afghanistan has been mostly in the form of credit, not grants.
Amin said help is needed to build infrastructure, agriculture, health and education. There is an acute shortage of capacity at both local and national levels, he added.
He cautioned against too much humanitarian aid. "Humanitarian aid creates a culture of dependency," he said.
The Non-Governmental Organizations "have done a wonderful job in Afghanistan," Amin said. "8.5 million people have been prevented from starvation." But, he added, capacity building could be done in a less costly fashion.
Amin criticized the international media for undermining Afghanistan's achievements. In less than a year, he said, 3 million children have gone back to school, and 2.8 million displaced people have returned, including 1.6 million refugees who have returned from outside the country.
In January, there was no newspaper, Kabul radio had just one to two hours of programs, and television at best reached 20,000 homes. Today, he noted, there are 112 newspapers; there is a national radio station, as well as local radio stations that broadcast in local languages; and national television is broadcast throughout most of the country.
In one of two concurrent panels that followed, Wahid Omar, executive director of Afghans4Tomorrow, an organization of Afghan professionals, many of whom fled their country at the time of the Soviet invasion, talked about education in Afghanistan.
He said the needs are enormous. There are an estimated 4.5 million primary school-age children, but facilities are almost non-existent: "Parents are seeking to register their children at schools that are sometimes little more than rubble," he said.
Omar, who now teaches at the University of Colorado, returned to his country of birth for three months earlier this year. He showed slides from his trip.
"The children had a strong desire to be in school," he said, "even though they were hungry, had no supplies, and had family difficulties - they had lost parents, relatives."
Yet, he pointed out, children represent "only part of the complex educational equation. Lack of opportunity and the destruction caused by war, migration, and hardship mean that there is an entire generation with limited or no education."
Omar estimated there are 8 or 9 million people whose education was disrupted or did not begin, and 2 million who started but did not complete primary or secondary school.
There is an urgent need to provide education and job training programs for special populations, such as the 600,000 or so armed people in the country. Without such programs, he said, "former combatants are highly likely to return to warlord armies or bandit activity," endangering the country's stability.
The country must recruit thousands of new teachers and invest heavily in teacher training, he added. "In the rush to open school doors and educate Afghan children, we should not overlook the quality of the education offered to them. They need education for the future, to give them the tools to compete in a global economy."
During the closing panel, Raihana Rasouli, director of strategy and planning for Afghans4Tomorrow, spoke about the position of women in Afghanistan.
"Before the Soviet invasion, there was tolerance," she said. "Women were making important contributions to national development."
She said the poverty that has resulted from 23 years of war "has taken an impossible toll" on the Afghan people.
Although many Westerners are concerned about the wearing of the burka, the full-length veil worn by women, Rasouli said Afghan women endure worse forms of suffering: One woman dies of pregnancy-related complications every 30 minutes; 80 percent of women can't read or write; and 14-year-old girls are being sold to neighboring countries for a life of prostitution, just to feed their family for one month, she said: "That's the real issue; the burka is just a cover."
---