Philosophy Professor Questions
What Defines the Good Life
By Sherry Fisher

or Joel Kupperman, there are always more questions. "And no simple answers," says the professor of philosophy, who has been asking questions for most of his life.
But that, says Kupperman, is the nature of the subject. "The funny thing about people who professionally pursue philosophy is that they always think they should be thinking harder. There's always that sense of effort - of 'maybe I'm not thinking hard enough about this.' I think philosophy appeals to people who want to push themselves to think harder."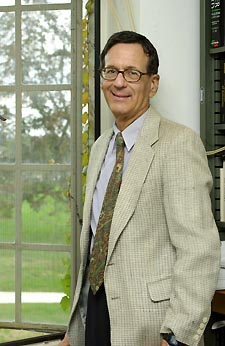 Joel Kupperman, professor of philosophy and recipient of the Chancellor's Research Award, is writing books on ethical theory and what constitutes the good life.

Photo by Shannon McAvoy


Lately, Kupperman, who received a Chancellor's Research Excellence Award last year, has been thinking a lot about the topics of two books he is writing: Ethics and Qualities of Life, about ethical theory, and Six Mistakes About the Good Life, which centers on simple but misleading ideas concerning what is most desirable in life and incorporates recent psychological research.
"There are different kinds of good lives," says Kupperman, who has already drafted the first two chapters of Six Mistakes About the Good Life. "But rather than giving examples of different kinds of good lives, I thought I could say something much more crisp and definite." For example, in the book's first chapter, he explores the simple notion that many people hold - that the good life is one of maximum comfort and pleasure.
"We don't want to be really uncomfortable or in pain, but it's not the whole story," he says. "It's much more complicated. Obviously, happiness is good generally, but it's not the ticket. You have to look at the context, at whole lives."
According to Kupperman, most people's idea of what is valuable in life is based on what they desire. "And there's a real disjunct between what people desire on the one hand, and what people really find satisfying when they have it," he says.
There is a particular ingredient that "a lot of different kinds of good lives have," he says. "The experiences in life that people value most, which they regard as peak experiences, involve the exercise of skills - when you're using your skills and getting into it. It's what athletes call being 'in the zone'."
Kupperman, whose major work is in ethics, says Asian philosophy meshes well with his sense of the world. He says his research started slowly, "in part because I was searching for approaches to ethical philosophy different from those that were and are still dominant."
Part of that search brought him back to the Chinese philosophy that he had studied as an undergraduate at the University of Chicago. "It seemed to me that the great classical Chinese philosophers asked questions that had not been asked by most Western philosophers in the last couple of hundred years, and that these led to important insights," he says.
According to Kupperman, classical Chinese philosophy engages much more directly and in far greater detail with problems of everyday life than Western philosophy.
He says much of Western philosophy centers on dramatic one-time choices, the big moments in life when a person has a real temptation, or could kill, steal, or do something else that would have major consequences. "Then you look for some kind of principle that would help you through the situation," Kupperman says. "It gives the picture that all there is to knowing how to live is handling these big moments."
But these moments, for most people, don't come up very often.
"What the best Asian philosophy does much better than many Western philosophies," he says, "is give you a sense of the texture of life in the moments between those major choices, the things that make life worth living or not worth living, and also help you prepare for the major choices."
Kupperman, who has been at UConn since 1960 and has taught undergraduate and graduate courses in Asian and comparative philosophy and ethics, hopes his students leave his class with questions they'll continue to think about - "that they might think about something relating to their lives that the average person doesn't think about, and have a set of ideas that they use as jumping-off points," he says.
"I remember when I went to college I had a very conventional idea of what to think about in life - it had to do with success, various kinds of pleasure, certain milestones, having a family, etc.," he adds. "But there's more to think about, and if you have more ideas that you can get from great philosophers, you have a richer sense of what the possibilities are."
Kupperman earned two bachelor's degrees from the University of Chicago and a Ph.D. in philosophy from Cambridge University in England. His last four books, published by Oxford University Press, are Character; Value ... And What Follows; Learning from Asian Philosophy; and Classic Asian Philosophy: A Guide to the Essential Texts.
---