Health Center Spreads the Word
About Depression, Kids, Treatment
By Kristina Goodnough

t's pretty well known that depression is widespread throughout the population and, if left untreated, wreaks havoc with individuals and their families, disturbing their lives from school to work to relationships.
What's not so well known is how to accurately identify people with depression, especially when they are children, and get them into treatment that can make a huge difference.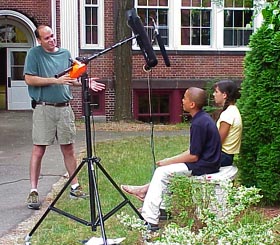 Frank Barton, a television specialist at the Health Center, directs the production of a video intended to help teens, teachers and parents identify and address depression in young people.

Photos by Pamela Leppert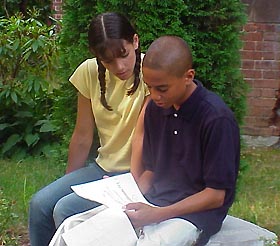 Alyssa Mucci and Wesley Bostic, professional actors hired for a video on teens and depression produced by the Health Center, read over the script.



"We know depression is the major cause of disability worldwide," says Dr. Leighton Huey, chairman of the psychiatry department at the Health Center, quoting a 1999 World Health Organization study. "We also know there is effective treatment for depression, and that if we identify it early and help sufferers get treatment early we can mitigate downstream consequences."
With this in mind, the psychiatry department is developing a broad education program, aimed at 5th graders, their families and their schools, hoping to help increase identification and treatment of children with depression.
The project has several components.
The first is a series of videos to help both adults and youngsters identify the signs of depression and the resources available for help.
"The goal is to create videos that serve as actual guides to help kids and adults alike understand depression," says project director Kathie Halbach Moffitt, a postdoctoral fellow in psychiatry.
The videos use both professional actors and volunteers to explain what depression is. Crying or sadness is perfectly normal when someone you love is very sick or has died, but crying at the littlest thing for no apparent reason is more than having a bad day, Moffitt says. Similarly, anyone can experience an occasional night of poor sleep, especially if there's a new event approaching, like a move or a new school or new job. But trouble falling asleep most of the time, or falling asleep then waking up and lying awake during the night, is more significant.
"It's important for parents and teachers to understand that the symptoms of depression last longer than a bad day," she says, "and that depression is severe and people can't just 'snap out of it'."
The first video is intended for 5th graders, their teachers, and their parents. It was filmed locally and is scheduled to be shown in a few schools in the Hartford region this fall on a pilot basis. "We want to evaluate the response to the video and make adjustments as necessary," says Moffitt.
A second component to the project is a workbook to accompany the video. It will be published in both English and Spanish.
The project will also include two websites, one for children and one for adults, with information about depression and treatment and links to resources.
Another component is a novel on depression, suitable for 5th graders. "We conducted a thorough search for an appropriate book, but found nothing suitable," says Moffitt. "So we commissioned a novel with a published author that can be distributed to schools for use across the curriculum."
The project also has a training component. The materials, where appropriate, will be used with medical students and residents at the Health Center, to familiarize them with depression and treatment.
Huey notes that the project is intended to have long-term value. "We see this as a major public health initiative that will go on over time," he says. "Our goal is not only to inform and educate, but to reduce the stigma associated with depression.
"If we can get the word out during childhood, we may be able to inoculate children with knowledge they might need later in life," he adds. "Then, if they suffer depression or if they see it in others, they may remember some of what they learned through our educational materials: that there are ways to treat depression."
---