Politics of Food Causing
Hunger, Obesity Says Speaker
By Sherry Fisher
Obesity-related illnesses are skyrocketing in the United States, corporate control over food has increased, and our farmland, water, and food have become more polluted, according to Anna Lappé, co-author of Hope's Edge: The Next Diet for a Small Planet.
Lappé spoke Oct. 16 in the Thomas J. Dodd Research Center's Konover Auditorium, as part of the World Food Day program.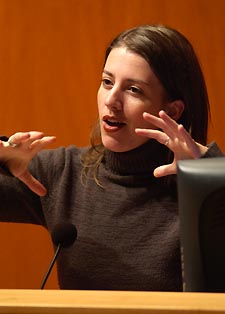 Anna Lappé says that almost as many people are dying from obesity-related illnesses as die from tobacco use. She spoke at the World Food Day program on the Storrs campus.
Lappé teamed up with her mother, Frances Moore Lappé, author of the 1971 bestseller Diet for a Small Planet, to write a sequel. They traveled around the world to explore what has happened in the past 30 years in terms of hunger, food politics, and diet.
"We asked, 'Have things gotten better or worse?'" Lappé said, "and the answer to that question is both." Mostly though, she focused on the negative.
Lappé said the U.S. is facing an obesity crisis and "this is radically different from where we were 30 years ago." She noted that "almost as many people are dying from obesity-related illnesses as die each year from tobacco use."
Childhood obesity is increasing, she said, blaming it, in part, on junk food served in schools: "Unlike 30 years ago, classrooms and school cafeteria s are now contracting with fast food companies or soda companies to provide the very foods that are making us unhealthy."
Lappé said part of the problem is what has happened to the economics and ownership of food: "I don't think it's any coincidence that as corporate control over food has narrowed and narrowed, the rest of us have been getting wider and wider.
"You can walk into any typical large grocery store and there are probably 30,000 items of food there," she said. "The odds are that about half of them are produced and controlled by just 10 mega-corporations, which have a total of about 150 people sitting on their boards."
Lappé said one of her favorite chapters in her mother's book is "Who Asked for Fruit Loops." It discusses sugar, salt, processing, and packaging - all cheap ways to make a profit. "It makes economic sense for these companies to be producing food that might not make health sense for us," she said.
Lappé said that many websites on child obesity focus on exercise, not where they should: on food. The supporters of these websites are companies like Coca-Cola, McDonalds, and Pepsi, she maintained.
Lappé said that in the past 30 years, "we've had an incredible increase in the number of farms using chemicals to produce our food. Every year around the world we have tens of thousands of people who are getting sick and dying from pesticide use."
She also talked about the pollution of food, noting recent recalls "on a massive scale" of meats because of potential contamination.
Lappé said the number of underfed people in the world is now almost equaled by the number of overfed people.
"When my mom wrote her book, one of her theses was that hunger isn't caused by a scarcity of food. We have enough to feed the world," Lappé said. "We found that it's more true than ever, yet we still have millions of people even in the U.S. who are going hungry."
Globally, the paradox of production and scarcity is even more true today, Lappé said.
She discussed the "alarming rates" of childhood malnutrition in India, while there is a surplus of grain. "We're looking into export options," a food distribution worker told her, after she commented on the mounds of grain she saw by the side of a road.
Lappé said people, programs and social movements around the world are making a difference, demonstrating that there are ways to grow food that can feed everybody. She called for greater attention to be paid to economic systems that don't shut people out.
She discussed the Green Belt movement in Kenya, founded more than 20 years ago to avert desertification; an Edible Food Garden at a middle school in Berkeley, Calif., where children grow their own food; and a city in Brazil, where the government declared good, healthy organic food a right of citizenship.
---