Barreca to Sopranos:
I'm Jist Sayin', You Gotta Problem With That?
By Allison Thompson

hen HBO began airing the drama The Sopranos four seasons ago, executives likely expected the series, which focuses on the life of a Mob boss, to generate some controversy. Who could have guessed that critics would zero in not on the show's violent content but on its portrayal of Italian Americans?
For Regina Barreca, an English professor and editor of the new book A Sitdown with the Sopranos: Watching Italian American Culture on T.V.'s Most Talked-About Series, the criticism is a complex matter.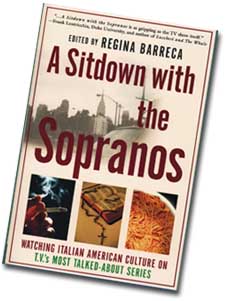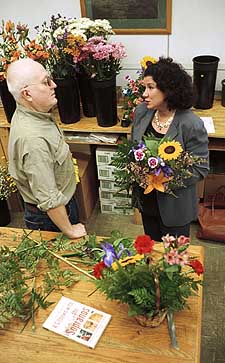 Regina Barreca, right, discusses The Sopranos with Jack Sunmark, owner of Campus Florists. Their discussions helped lead to her book.

Photo by Peter Morenus
"All the ordinary moments of everyday life - everybody's everyday life - they get so right," says Barreca, whose book was released by Palgrave in September. "It's so on the money."
So when a book editor approached Barreca, who is Italian American, about editing a volume of essays by Italian American authors responding to the show's critics, she jumped at the chance. The eight authors, most of whom were chosen by Barreca, were asked to explore whether the hit series is detrimental to the image of Italian Americans and what makes the show so popular. The resulting writings address the show's presentation of women, Italian heritage, suburbia, organized crime, Catholicism, psychotherapy and family.
The book's contributors include Philadelphia Inquirer reporter George Anastasia, who has written about organized crime for the past 20 years and contributes an article about the topic; poet and critic Sandra M. Gilbert, who contributes an essay on the role of the "family"; and author and frequent New York Times contributor Jay Parini, who writes about ethnic culture.
Like Barreca, many of the eight authors conclude that the show is successful because, despite the characters' unusual occupation, viewers can relate to many of their dilemmas, such as dealing with troubled children and handling marital strife.
"I really enjoy television, but this is a whole other level," she says. "It's the most everyday topics set against an unusual background," says Barreca.
Barreca, who was turned onto the show by a colleague, didn't have to travel far to find other ardent fans. On frequent trips to Campus Florist, Barreca and the owners would discuss the show at length, dissecting plot twists and analyzing characters' actions. In an "it's all in who you know" twist worthy of the show, it turns out that the editor who asked Barreca to edit the book is the niece of the owners of Campus Florist. On a visit to see her relatives, the editor heard about Barreca's interest in the show and decided to approach her about doing the book.
In what Barreca deems a "lucky coincidence," another book she edited, this one a collection of writings by Italian American authors, was released a few weeks after A Sitdown with the Sopranos. In Don't Tell Mama!: The Penguin Book of Italian American Writing, Barreca gathered pieces by nearly 100 Italian American writers. The collection, which Barreca spent about three years researching, spans more than 100 years.
"We have funny stuff, and we have stuff that will break your heart," Barreca says. "Ultimately, the book makes us realize that whether we're Italian American, African American or Asian American, we're all exactly the same and have strikingly similar life experiences. It does what all great writing does, which is unite us, but it puts it under this tradition."
The volume contains previously published works by such well-known authors as Don DeLillo and Ray Romano, as well as pieces that were commissioned for the book such as the essay "Food and Fatalism" by author Wally Lamb.
---