Group Human Rights Difficult
To Define, Implement, Enforce
By Allison Thompson
While individuals have been granted human rights, the question of whether groups should receive the same is more complex.
In the lecture "Who has human rights? Groups, minorities and indigenous peoples," Jack Donnelly, the Marsha Lilien Gladstein visiting professor in human rights this semester, urged the audience to be skeptical about the call for group human rights.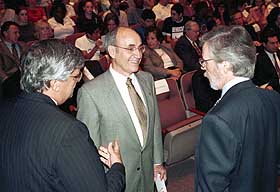 Ross MacKinnon, left, dean of the College of Liberal Arts and Sciences, Gary Gladstein, center, a member of the UConn Foundation board and a significant supporter of UConn's human rights initiatives, and Jack Donnelly, the Marsh Lilien Gladstein visiting professor in Human Rights, visit before the Gladstein lecture.

Photo by Peter Morenus
Though much of the suffering in the world has a group component, and group membership and identity is very important to many people, group human rights is a conceptually muddled concept, said Donnelly in his talk on Thursday, Sept. 19.
In addition, he said, group human rights rarely offer more valuable resources than individual human rights, he said. It would be difficult to determine which groups ought to have collective human rights, according to Donnelly. If a history of pervasive discrimination and suffering is used as the criterion, many groups would be eligible for collective human rights, said Donnelly, the Andrew W. Mellon Professor at the University of Denver's Graduate School of International Studies. That could lead potentially to a proliferation of group human rights and ultimately debase the cause by inflating claims.
If groups are granted human rights, the question then becomes which human rights they should have. Group human rights should be different than individual rights, Donnelly said. However, discussions about group human rights tend to stay at the level of group suffering with no talk of what's needed to alleviate that suffering.
Those who advocate for group human rights must also examine how a group can act collectively to exercise its rights, Donnelly said. If the group is small, geographically isolated and homogenous with a strong tradition of group agency, collective action should not be a problem, he said. If membership in the group is voluntary, the hierarchy can exercise rights collectively for the group.
Once the issue becomes applying human rights to a large group, problems arise. Using women as an example, Donnelly noted that "if women aren't a candidate for group rights, nobody is." Yet, there is no collective personality for women to exercise human rights, he said. "Just because a group has suffered doesn't mean it has the capacity for collective action," he said.
If group human rights are granted, difficult conflicts are likely to arise between those rights and individual human rights. In case of conflicts, Donnelly said limited priority should be given to individual human rights.
Finally, Donnelly noted that individual human rights haven't worked and suggested that, in light of that fact, it would be unlikely that group human rights would succeed. "Why should we expect group human rights to work where individual human rights have failed?"
People who violated individual human rights wouldn't be deterred by group human rights, Donnelly noted. While Donnelly agrees that some of the worst suffering has been perpetuated against groups, that reality isn't enough to establish group human rights, he said. "The solution is not new and different rights, but better implementation of existing rights," Donnelly said.
The Marsha Lilien Gladstein visiting professorship in human rights was made possible through a gift from the Marsha Lilien Gladstein Foundation.
---