Connecticut Agricultural College - 1899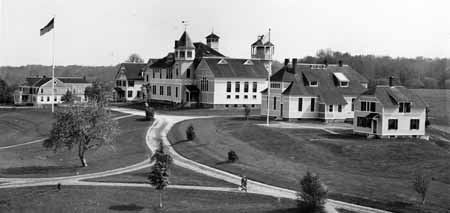 [ ABOVE ]A view of the Storrs campus in 1899, around the time its name changed from Storrs Agricultural College to Connecticut Agricultural College. The buildings, from the left, are: Grove Cottage, a women's dormitory built in 1896; Gold Hall, a men's dormitory whose front area served as the college president's home; Old Main, the central administration and lecture hall; the chemistry laboratory, which burned down in June 1917; and the Storrs Agricultural Experiment Station. Except for Grove, all of these structures were built in 1890. The flagpole with the U.S. flag at left is approximately where the flagpole is today on the University's front lawn facing Route 195. The cover, designed with the look of hinges and a lock, like a personal diary, with orange for key features.
[ BELOW ] Grove Cottage included classrooms and laboratories for Domestic Science, which later became Home Economics, and, since the early 1970s, Family Studies. There was also a gymnasium on the upper floor. Grove Cottage was destroyed by fire in 1919. Its location is approximately where Beach Hall was built in 1929, and the pole with the flag is approximately where the flag pole is today on the front law of the University facing Route 195.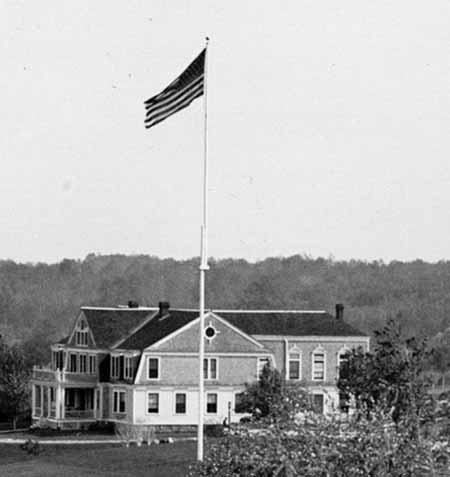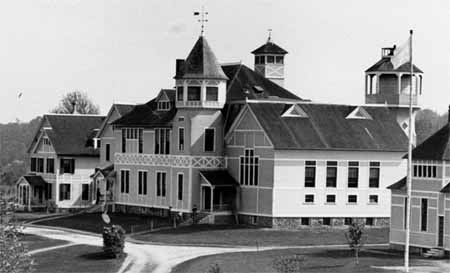 [ ABOVE ] This detail from the panoramic campus photograph shows Gold Hall on the left and Old Main. Several people can be seen on the stairs heading into Old Main Gold Hall, named for Theodore S. Gold of Cornwall, a member of the Board of Trustees, included residential space for the college president and his family. Old Main, in addition to offices and classrooms, housed the library, bookstore, meeting rooms, a third-floor auditorium, and living space for faculty. Gold Hall was destroyed by fire in 1917, and Old Main was torn down in 1929 after it was replaced by Beach Hall. The flag on the second pole has not been identified.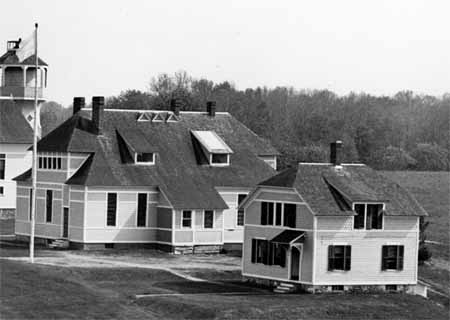 [ ABOVE ] This detail image shows the chemistry laboratory and the Storrs Agricultural Experiment Station, both built around 1890. The chemistry lab burned to the ground in 1914. The experiment station building was moved to a location along North Eagleville Road in the 1930s, and was torn down in 1960 for construction of the Torrey Life Sciences Building.
[ BELOW ] In the foreground of the panoramic photograph are two people -- one appears to be in military uniform, possibly a student cadet in the military training program that began in the 1890s. Both are carrying suitcases.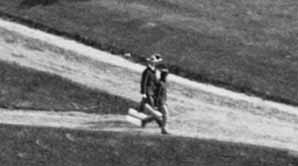 ---