Researchers Say Sharing Music
On-Line Has Changed Industry
By Sherry Fisher

hile the recording industry has been singing the blues, millions of consumers continue to cyber-swap music, apparently preferring the free digital stuff to buying CDs. That's good for new artists, but bad for superstars, according to researchers from UConn's business school who are studying the phenomenon of online music-sharing.
"The new technologies have completely changed the landscape of the music industry," says Sudip Bhattacharjee, an assistant professor of operations and information management.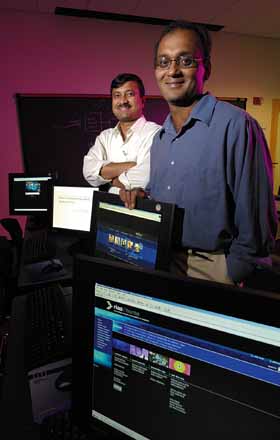 Ram D. Gopal, right, an associate professor, and Sudip Bhattacharjee, an assistant professor of operations and information management, are conducting research on the impact of music piracy from the Internet.

Photo by Peter Morenus
The fact that online trading may be illegal hasn't stopped music fans from downloading their favorite tunes through a host of free music-sharing networks. The recording industry and many superstars argue that such downloading chisels away at their profits, while consumers say that CDs are wildly overpriced.
In one study Bhattacharjee, Ram D. Gopal, an associate professor of operations and information management, and Lawrence Sanders, a professor of management science and systems at the University of Buffalo, analyzed weekly album sales reported in Billboard Magazine between 1991 and 2000. They found that over that period, there was a 31.4 percent increase in the number of different artists on the list. The researchers attributed this to the jump in number of Internet users - from 3 million to 116.7 million - and the surfacing of digital music sharing services.
"The number of different artists sharply increased since 1998, the year the MP3 (format) became widely available," Gopal says. Prior to that, the list of the top 200 albums tended to consist of just a handful of superstars.
"Song sharing has helped unknown artists become known," Bhattacharjee adds. "People can listen to artists they might not hear otherwise. And, if they like what they've sampled, they'll buy the CD."
Superstars, on the other hand, are taking a hit.
The researchers found that when consumers are already familiar with a particular superstar's music, they are more likely to download and pirate it. "Consumers are often forced to buy a CD for the one or two songs on it that they really like," Gopal says. Now, they often can download those they like for free.
The research also indicated that consumers were satisfied with the technical quality of the songs they downloaded, compared with the quality of a CD. Also, the fact that the record industry no longer releases CD singles has probably drawn consumers to music-swapping.
The record industry is out of touch with what consumers really want, say the researchers: cheaper CDs. "While the cost of producing CDs has gone down dramatically over the past few years, prices have not," Gopal says. According to the research, consumers say they feel ripped off paying $15 or $20 for a CD. They can buy a DVD for the same price, and that's an entire movie, Gopal says.
Record companies are trying to find solutions to the problem of music piracy, but so far have not offered compelling alternatives.
Some record labels have launched online services, such as Pressplay and MusicNet, where music can be downloaded for a price, but for various reasons they have not captured large audiences, Bhattacharjee says.
"The music industry needs to rethink its strategy if it is going to lure people away from music piracy," he says. "There needs to be an alternative for legal sharing of songs that would benefit both the artists' industry and consumers."
Gopal and Bhattacharjee along with Jim Marsden, head, operations and information management and doctoral student Kaveepan Lertwachara, are currently working on developing alternative business models.
---