Center for Academic Programs
All About Educational Opportunity

our weeks into classes, freshman Ruth Merari Valentin seems like an old-timer. Clad in gray T-shirt, full-length gray skirt and sneakers, she appears very much at home at UConn. She chats confidently about her classes, her professors, her ambitions to join the School of Education, and her first taste of independence as a college student.
Four years ago, her future was not so well assured. Valentin is a first-generation college student whose parents are supportive of her education but do not have the means to put their daughter through college.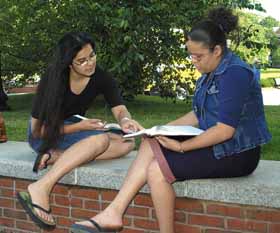 Freshman Ruth Merari Valentin, left, an Upward Bound graduate and now an SSS student, discusses a book with her high school friend Glendaly Ortiz outside the Homer Babbidge Library.

Photo by Shannon McAvoy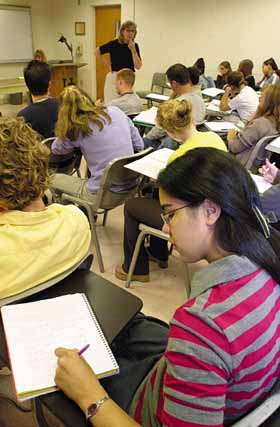 Ruth Merari Valentin attends an introductory history class, one of four classes she is taking this semester.

Photo by Dollie Harvey
During her freshman year at Windham High School, however, Valentin was recruited into Upward Bound, a college preparatory program for low-income, first-generation students, and she spent the following three summers studying at the Storrs campus. Her hard work paid off when she embarked last month on her college career.
"Sometimes you think, 'what am I doing here? my friends are relaxing,'" she says, reflecting on her participation in Upward Bound. "But it was all worth it. You learn more here than you do in school."
Upward Bound is one of four federally funded programs that are offered through UConn's Center for Academic Programs. The programs housed at the Center offer services to students who are first in their families to attend college or meet federal income guidelines or students who are from underrepresented ethnic groups.
"Educational opportunity - that's what we're all about," says Maria Martinez, director of the Center. "If people were able to access the resources they need and are entitled to, we wouldn't exist. But we know that's not true.
Our emphasis is to provide access and educational opportunity to students with the potential to become successful."
Upward Bound participants are selected from high schools in Hartford, Waterbury, New Haven and Windham.
Michelle Collazo, a student from Crosby High School in Waterbury, says a recruiter came to her school and asked who wanted to go to college: "I put up my hand," she says. "Then they asked, 'who knows they're going to college?' and I didn't raise my hand." Her prospects of a college education look brighter now, however, as she heads into her senior year at high school after her third summer in Upward Bound.
Students in the program attend a six-week summer session at UConn after each of their first three years in high school and continue working on their academic skills with teachers and tutors in their hometowns during the school year.
"They put a lot into six weeks in the summer," says Upward Bound student Patricia Gonzalez, a senior from Kennedy High School in Waterbury. "We might cover the same ground in four months at school."
"Upward Bound teaches you how to study, where to study, when to study - even how not to study," says Trevor Clarke, a 1999 Upward Bound graduate and now a UConn junior, who worked as a resident assistant for the program during the summer.
Upward Bound goes beyond academics in preparing students for college. Community service, for example, is required of all participants. Former Upward Bound student Patrice Raffington, now a junior at UConn, found she enjoyed volunteer work so much, she put in more than 500 hours at a hospital in Stamford.
And spending the summers on the Storrs campus offers an introduction to campus life.
"I felt cool on a college campus for six weeks, living in a dorm," says Raffington.
The program has strict rules and the students are well aware of the consequences if they infringe them.
"They take away your money if you fall asleep in class," noted Gonzalez, referring to a small stipend participants receive in the summer.
"You can get kicked out for handing in someone else's paper," added Valentin. "They tell us, 'we don't send people home, you send yourself home.'"
Facing pressures from outside and discipline from within, it's not surprising the groups are close knit. "I cried at my Upward Bound graduation, not at my high school graduation," says 1999 Upward Bound graduate Raffington.
In many cases, graduates of Upward Bound are so well prepared for college that they need no further assistance; but for those who may, like Valentin, and for others entering the University, the Center for Academic Programs also offers Student Support Services.
The SSS program introduces students to the rigors of university life while they earn seven credits in general education courses. Student Support Services are offered to first-generation, low-income students in need of additional support, beginning during a six-week program prior to the freshman year, and continuing until graduation.
Ashley Papanos is a first-generation college student now in her sophomore year. When she applied to UConn from Coventry High School, she was recommended by the admissions office to join the SSS program.
"SSS advises students about financial aid, which classes to take, counseling services, career services, and they'll tell you 'this is a good opportunity'," she says. "Plus, if you have trouble in class, there's free tutoring."
Papanos says she appreciates the "open-door policy" of the Center for Academic Programs counselors. "The CAP office has connections everywhere. All four counselors know who to call, and their door is always open," she says.
"I can't imagine being here without SSS, with some of the things I faced in my freshman year," added Papanos, who is now serving as a peer advisor to Valentin. "My parents don't know what to expect. If I have questions, I don't have those resources at home."
But although they may not have a college background, many of the parents take great pride in their offspring's achievements. The Center is increasing its efforts to involve them in the programs.
"My mom is so proud," says Clarke, the UConn junior. "She was very young when she got pregnant with my brother. She's living her dreams through me."
In many cases, the students' success continues beyond college.
One former Upward Bound student, Kenneth Green, is now a state representative; another, Emmanuela Revolous, is an assistant dean at Wesleyan University. SSS graduate Peter Gil is director of national sales for Westbrook Technology, and SSS graduate Franklin Chang-Diaz became the first Hispanic-American astronaut. All are UConn alumni.
The Center encourages former students to talk with current students about their experience, their career, and how the programs helped them. Each year, too, each state sends an alum to Washington to lobby for continued support for the TRIO programs.
"They're very good ambassadors," says CAP director Martinez.
Although federal funding has been continuous for 35 years and has grown, statistics suggest that the TRIO programs serve less than 5 percent of those eligible.
Says Martinez, "The need is so large that we're not even breaking the tip of the iceberg."
---