Student Takes Classes with Indian Guru
By Sherry Fisher

all it serendipity. Raymond Kingston's stars were aligned the night his music caught the attention of two women from the other side of the globe.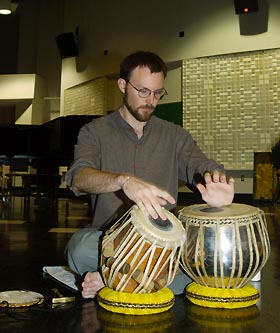 Raymond Kingston, music major, plays his tabula, an Indian instrument.

Photo by Shannon McAvoy
Kingston, a junior majoring in music, was in his room practicing the tabla, a percussion instrument of Indian classical music for which he had developed a passion several months earlier. The instrument, consisting of two drums, is played with the hands and fingers. Although he practiced every day, he had become increasingly frustrated, finding it difficult to produce the sounds he had heard on the CDs in his expanding collection of Indian music.
Kingston needed a guru.
"Playing the tabla isn't like playing the piano, which you can learn from a book," he says. "With Indian classical music and many musics of the East, you need to have a teacher. Someone needs to tell you, 'in order to create this particular sound, you have to manipulate your hands like this.' The tradition is oral."
But with virtually no tabla teachers nearby, Kingston was forced to continue to practice on his own.
Then came the fateful knock on the door. "Something magical happened," Kingston says. Two UConn students from West Bengal, India, had been in the dorm visiting another Indian student and were drawn to Kingston's room by the drumming. "I was a little embarrassed," Kingston recalls.
But after some small talk and a few songs, "we became fast friends," he says. When the women learned of his desire to find a tabla teacher, one suggested that he study in Calcutta, where her aunt was taking voice lessons. Within two weeks, the aunt had found a tabla guru - a well-known musician named Anindo Chatterjee - who was willing to take on an American student for a month during the summer.
"It didn't seem real," Kingston says.
He still had to come up with the cash to make it happen. But thanks to UConn's Summer Undergraduate Research Scholarship Program, the project became a reality.
After settling in with a host family, Kingston started lessons with his guru, who was a five-minute walk from where he lived. The lessons, which he took every other day, lasted from one to four hours.
Not only did he have to learn the Bengali language, he had to learn certain syllables that correlated with particular tabla strokes.
"Chatterjee was very patient with me," Kingston says. Many Bengali boys play tabla from the time they are very small, just as children take piano lessons in the United States.
Kingston was amazed by some of the musicians he heard in Calcutta. "I saw people playing seemingly impossible polyrhythms," he says. "I had never witnessed anything like it. I've now seen the potential of what humans can do with rhythm."
Kingston says he hopes to teach diversity through music. "Many schools aren't teaching children about other parts of the world in a way that is meaningful," he says. "I want to go to an elementary or junior high school and, having experienced other cultures myself, tell the students that these places are real, this is some of the music from there. These are real people, not just pictures in a book."
Robert Miller, head of the music department, worked with Kingston on the project. "It was a wonderful opportunity for him," Miller says. "These are the kinds of creative endeavors we like to promote."
Kingston, who has founded a group that plays Indian music on campus, hopes to study in Indonesia or Thailand next summer. He plans to take graduate studies in ethnomusicology, specializing in southeast Asia.
"I had the idea of taking music of other worlds to younger kids before my trip," Kingston says. "My experience in Calcutta has made me realize that this is really what I want to do. It can be done."
---